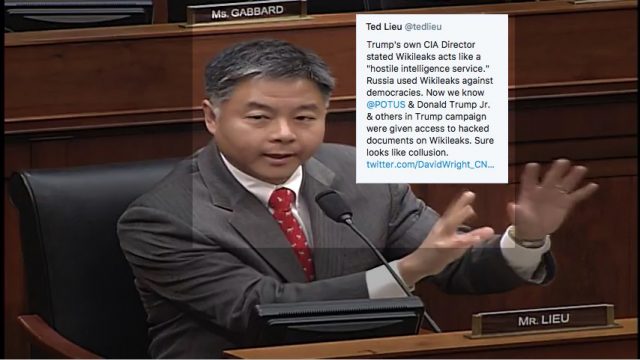 Representative Ted Lieu (D-CA) tweeted out baseless accusations against President Donald Trump and Wikileaks before deleting the accusatory tweet after being publicly shamed for it.
He also accused Wikileaks, Trump and Donald Trump Jr. of collusion. On December 8, at 5:49 a.m., Lieu wrote:
Trump's own CIA Director stated Wikileaks acts like a "hostile intelligence service." Russia used Wikileaks against democracies. Now we know @POTUS & Donald Trump Jr. & others in Trump campaign were given access to hacked documents on Wikileaks. Sure looks like collusion.
Lieu's tweet also contained a link to the now-discredited CNN report.
As noted by journalist Glenn Greenwald, Lieu's tweet was ultimately shared in excess of 7,000 times and liked more than twice that number. Perhaps in response to being called out by Greenwald, Lieu eventually deleted his tweet–quietly and without admitting his error.
In that now-debunked story, CNN originally claimed an email was sent to President Trump and his eldest son regarding certain Wikileaks releases on September 4–ten days before the releases were publicly available.
In truth, the email in question was sent to Trump and his son on September 14–one day after Wikileaks published the DNC emails and began promoting them online. A report issued by the Washington Post hours after CNN published their false story provided the actual email–which was curiously missing from CNN's original reporting.
That same email, written by one Michael J. Erickson, also referenced other publicly-accessible emails of Colin Powell's available at DCLeaks.com.
CNN initially claimed their now-discredited story was a massive bombshell regarding Trump and Wikileaks.
The thrust of their initial reporting and promotion of the now-retracted story was that the media network had discovered physical evidence of an apparently nefarious relationship between the Trump campaign and Wikileaks.
Those claims–the entire basis of CNN's story–were ultimately shown to be false.
Law&Crime reached out to Lieu's office for comment, but no response was forthcoming at the time of publication.
[image via screengrab]
Follow Colin Kalmbacher on Twitter: @colinkalmbacher
Have a tip we should know? [email protected]