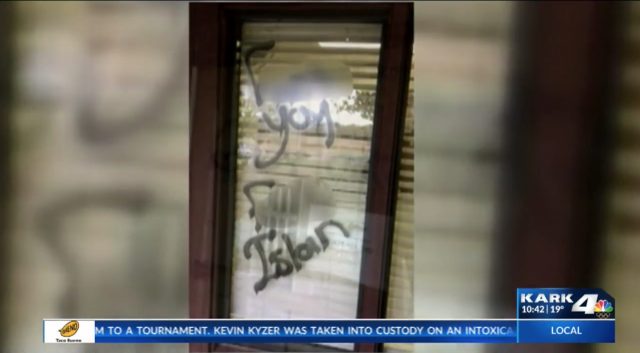 A mosque in the Bible Belt has forgiven the man who vandalized it in late 2016–and even went so far as to pay off the vandal's municipal debts.
In October 2016, the Masjid Al Salam mosque in Fort Smith, Arkansas was vandalized by Abraham Davis. Davis scrawled a series of swastikas on the mosque's facade and wrote the phrases "go home" and "fuck you fuck islam" in spray paint on the front windows.
Masjid Al Salam's security cameras caught the entirety of the event and made it easy for local police to nab the perpetrator soon thereafter. Davis was then charged with criminal mischief in the first degree due to the severity of the damage he caused.
Since the repairs cost Masjid Al Salam over $1,000, Davis' act of vandalism turned him into a felon. He was sentenced to community service and a large fine. After over a year, however, Davis was unable to pay the balance in full and was slated to spend the next six years in prison because of his financial issues.
That's when the very mosque he targeted stepped in to help him out.
President of Masjid Al Salam, Louay Nassri, explained the congregation's act of forgiveness. He said:
It shouldn't be hanging over him for the rest of his life. We knew this person did a bad thing and there has to be consequences for their actions. But we didn't have any ill feelings towards anybody. We heard that he was having financial problems. Now if you don't pay your fine, that's an automatic six years in jail. Well, we didn't want him to go to jail for six years.
So, just before New Year's Day, Nassri wrote a check for $1,700 to cover all of Davis' remaining debts. That $1,700 was originally set aside to cover the damage Davis himself had caused.
In comments to Arkansas Matters, Nassri noted that forgiveness was of a piece with Islam and Masjid Al Salam. Nassri said, "After all that he had been through, we didn't want him sitting on the severe financial stress. And like I told him, we want him to have a much better future. We thought this was the right thing to do We thought if someone does something bad and came and apologized, you just forgive them. That should be the natural thing. We had no idea that this forgiveness would be an international story."
Nassri continued, "If he would've known who we are, he wouldn't of done this. If we would've known his troubles with us, we would've tried to help him. Communication is extremely important. Education is extremely important."
[image via screengrab/Arkansas Matters]
Follow Colin Kalmbacher on Twitter: @colinkalmbacher
Have a tip we should know? [email protected]