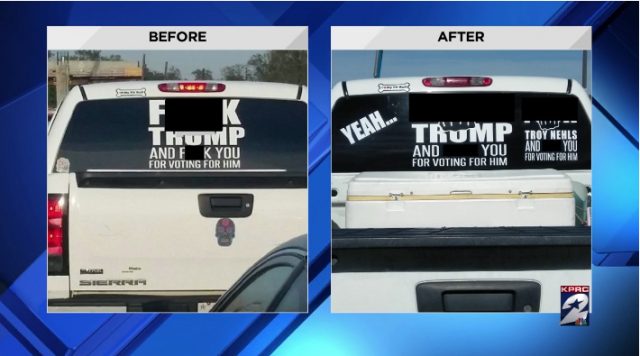 A woman in Texas with a "Fuck Trump" bumper sticker on the back of her truck has added an additional name to her rear window display: Fort Bend County Sheriff Troy Nehls.
Karen Fonseca's pickup truck recently got her in trouble with local law enforcement after Nehls posted a picture of the vehicle on his personal Facebook page with the following caption:
I have received numerous calls regarding the offensive display on this truck as it is often seen along FM 359. If you know who owns this truck or it is yours, I would like to discuss it with you. Our Prosecutor has informed us she would accept Disorderly Conduct charges regarding it, but I feel we could come to an agreement regarding a modification to it.
After quickly being shared in excess of 10,000 times, the online response to Nehls' post was almost uniformly negative. Most commenters mocked the Fort Bend County Sheriff. Many others were aghast at the law enforcement official's apparent disregard for–or perceived ignorance of–constitutionally guaranteed civil liberties. The ACLU even chimed in to chide Nehls on his Facebook page.
Soon after the original post reached a certain level of virality, however, Nehls deleted it and the Fort Bend County Sheriff's Office issued the following statement:
The Sheriff made the post on his Personal page. The objective of the post was to find the owner/driver of the truck and have a conversation with them in order to prevent a potential altercation between the truck driver and those offended by the message. Since the owner of the truck has been identified, the Sheriff took down the post. Due to the hate messages he has been receiving towards his wife and children, the Sheriff will not be commenting on the matter further."
Further complicating the issue and adding to the appearance of a persecution based on Fonseca's political beliefs and method of expression, Nehls later arrested Fonseca on unrelated charges–at her home and in front of her six-year-old daughter. Both Fonseca and her husband believe the arrest was because of the bumper sticker. She said, "People abuse the badge, in my opinion, and money talks."
Fonseca and Texas State Representative Ron Reynolds will be holding a press conference later this morning to "discuss the injustice" at the Fort Bend County Justice Center, according to Houston-area NBC affiliate KPRC. Reynolds said:
We have to protect people's First Amendment Right to Free Speech. A difference in political views does not give Sheriff Nehls the right to target citizens. These actions by Sheriff Nehls could be an abuse of his law enforcement authority.
[image via screengrab/KPRC]
Follow Colin Kalmbacher on Twitter: @colinkalmbacher
Have a tip we should know? [email protected]