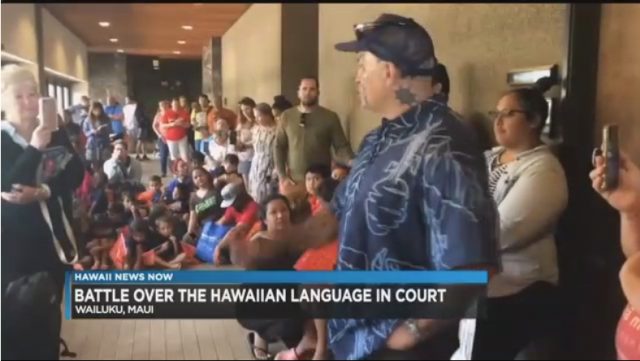 A warrant was issued for the arrest of a University of Hawaii professor on Wednesday–because he refused to address a judge in English.
Samuel Kaleikoa Kaeo was in a Wailuku courtroom to face charges stemming from an August 2017 protest against the construction of a telescope in Haleakala National Park.
After Judge Blaine Kobayshi asked Kaeo to identify himself, the professor did so, in the native Hawaiian language. Because Kaeo spoke in Hawaiian, however, Judge Kobayshi ruled him not present and then issued a $750 warrant for his arrest. Kobayshi said:
Since the court is unable to get a definitive determination for the record that the defendant seated in court is Mr. Samuel Kaeo, bailiff, make three calls for the defendant.
The gallery full of Kaeo's supporters quickly erupted in protest–which Kobayshi summarily ignored. Kaeo eventually left the courtroom to address those in solidarity with him that day.
Kaeo said, "I showed up. I dealt with this judge maybe 15 times before. So, obviously, it had nothing to do with they couldn't recognize me. You see what the issue was? It wasn't about me. It was about the fact that I was speaking Hawaiian. But these small obstacles are the kinds of things we overcome."
Kaeo had previously requested a Hawaiian translator for his trial but was denied. Hawaiian and English are the state's two official languages.
Since the warrant was issued, condemnation of the judge's actions has been swift, harsh, and sizable. Office of Hawaiian Affairs CEO Kamanaopono Crabbe issued a statement chastising Judge Kobayshi. It reads, in part:
Punishing Native Hawaiians for speaking our native language invokes a disturbing era in Hawaii's history when olelo Hawaii was prohibited in schools, a form of cultural suppression that substantially contributed to the near extinction of the Hawaiian language. It is disappointing that the state government continues to place barriers on olelo Hawaii, 40 years after Hawaii's constitution was amended to recognize the Hawaiian language as an official language of the state. We demand that the state Judiciary find an immediate solution to this issue.
Apparently someone in the judiciary saw the writing on the wall–or in the Constitution, at least–as this story was being readied for publication, the bench warrant for Kaeo's arrest was pulled.
[image via screengrab]
Follow Colin Kalmbacher on Twitter: @colinkalmbacher
Have a tip we should know? [email protected]