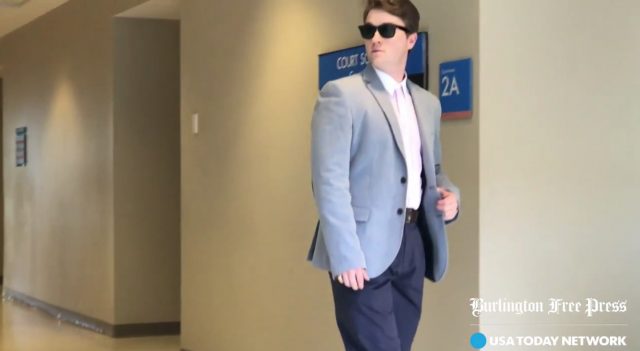 A judge in Vermont has tossed a controversial case against a University of Vermont ("UVM") student accused of using "explicitly racist and threatening language" against black students and diversity programs on campus.
According to Chittenden County State's Attorney Sarah George, the judge in the case did not find probable cause to sustain a charge of disorderly conduct over the student's allegedly racist tirade.
Twenty-year-old Wesley Richter was cited by UVM Police on October 5 over the incident. The citation is said to have stemmed from a phone conversation between Richter and his mother. While talking to his mother on the phone in a university library, Richter apparently said something offensive.
Another student overheard those allegedly insensitive comments and then contacted the authorities. The actual content of the conversation in question is still unclear because the judge in the case refused to publicly release the citation affidavit prepared by UVM Police–again, for lack of probable cause.
The government's case falling apart in such severe fashion is likely a shock to local prosecutors. Throughout the months-long affair, the State's Attorney's Office expressed quite a bit of confidence in their case, arguing with the full force of the popular legalistic cliché that Richter's speech rose to the level of shouting "fire" in a crowded theater.
Chittenden County Deputy State's Attorney Ryan Richards said, "It's our office's perspective that the particular threats or threatening behavior–the words that he said, statements he made, given the circumstances of the situation, rose to the level that they're not protected by the First Amendment."
That argument never really got to occur, however, as the lack of probable cause finding short-circuited most of the legal wrangling likely in store for both sides.
For his part, Richter was adamant throughout the ordeal that he was innocent. In comments to the local CBS affiliate, Richter's defense attorney, Benjamin Luna, said:
It's been asked of me whether or not my client is a racist, and absolutely not. The First Amendment in this country is under siege and this case is a demonstration of that.
[image via screengrab/Burlington Free Press]
Follow Colin Kalmbacher on Twitter: @colinkalmbacher
Have a tip we should know? [email protected]