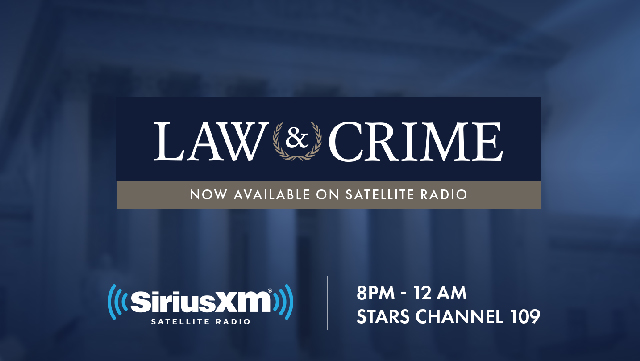 NEW YORK, NY – May 3, 2018 – Law & Crime, the new 24/7 linear and OTT network created by Dan Abrams, will broadcast live high-profile trials and riveting crime cases in a new, exclusive programming lineup to air on SiriusXM's Stars channel starting May 7th. Over the next month, Inside the Courtroom with Law & Crime will air on SiriusXM's Stars channel 109 Monday through Friday 8:00 PM – 12:00 AM EST. This new daily program will feature a curated selection of Law & Crime's live trial coverage. The announcement comes on the heels of Law & Crime Network launching across major OTT platforms including Apple TV and Roku, thereby expanding its reach and availability for audiences to engage in its high quality programming.
"The appetite for legal and true crime content has reached new heights in today's multi-platform environment. We're thrilled to be partnering with SiriusXM to further expand our Law & Crime reach and bring their millions of radio subscribers access to our in depth live trial coverage and legal commentary", said Law & Crime founder, Dan Abrams.
"We are eager to expand into true-crime programming on SiriusXM, and working with Law & Crime offers us a great opportunity to bring real-life trials to our listeners," said Megan Liberman SiriusXM SVP, News, Talk and Entertainment.
Law & Crime's programming includes expert legal commentary and analysis by a variety of legal hosts including former Fox News Host and attorney Lis Wiehl and Making a Murderer reporter and attorney, Aaron Keller.
About Law & Crime
From the high-profile cases to the most compelling local trials, Law & Crime is the only 24/7 linear and OTT network offering daily live trial coverage and live expert legal commentary and analysis. Created by TV's top legal commentator and attorney, Dan Abrams, Law & Crime is dedicated to exploring the always intriguing world of the law while also offering original crime stories and legal programs to a broad and multi-platform audience.
Abous Sirius XM
SiriusXM Holdings Inc. (NASDAQ: SIRI) is the world's largest radio company measured by revenue and has approximately 33.1 million subscribers. SiriusXM creates and offers commercial-free music; premier sports talk and live events; comedy; news; exclusive talk and entertainment, and a wide-range of Latin music, sports and talk programming. SiriusXM is available in vehicles from every major car company and on smartphones and other connected devices as well as online at siriusxm.com. SiriusXM radios and accessories are available from retailers nationwide and online at SiriusXM. SiriusXM also provides premium traffic, weather, data and information services for subscribers through SiriusXM TrafficTM, SiriusXM Travel Link, NavTraffic®, NavWeatherTM. SiriusXM delivers weather, data and information services to aircraft and boats through SiriusXM AviationTM and SiriusXM MarineTM. In addition, SiriusXM Music for Business provides commercial-free music to a variety of businesses. SiriusXM holds a minority interest in SiriusXM Canada which has approximately 2.6 million subscribers. SiriusXM is also a leading provider of connected vehicles services, giving customers access to a suite of safety, security, and convenience services including automatic crash notification, stolen vehicle recovery assistance, enhanced roadside assistance and turn-by-turn navigation.
Have a tip we should know? [email protected]