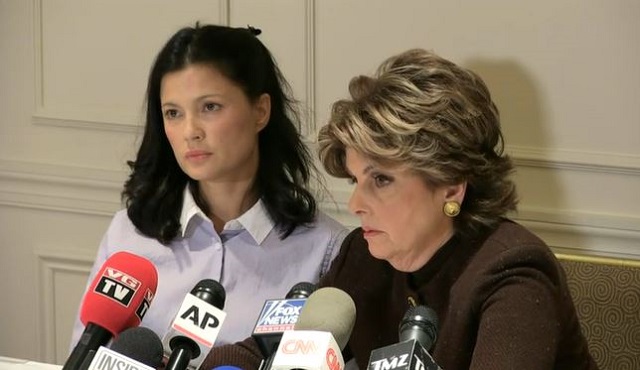 Natassia Malthe is the latest actress to make allegations against movie producer Harvey Weinstein. At a press conference in New York with her attorney Gloria Allred, Malthe described an encounter where Weinstein allegedly raped her in 2008.
Malthe said that she was in London for the BAFTA awards, and at the after-party, she took a picture with Weinstein, who asked where she was staying. She told him, and then later that evening, she went back to the hotel, undressed, got ready for bed, and went to sleep. She awoke in the middle of the night to Harvey pounding on the door and yelling her for to answer.
Malthe said she opened the door and from the look of Weinstein, she wondered if he could be on drugs. She said that he entered her room and took off his pants, then discussed actresses who reached success because they slept with him, and said he could give her a role in a movie.
"I told him I do not do casting couch," Malthe told reporters. She said he then took out his penis and forced himself on her, penetrating her.
"It was not consensual," she said. "He did not use a condom."
Malthe said that Weinstein didn't ejaculate during intercourse, and he masturbated in front of her afterwards. "I was completely grossed out," she said.
She went on to say that the next day, Weinstein sent her a script, and got her to agree to another meeting days later. At that time, Malthe said, Weinstein allegedly tried to get Malthe and another woman to have a threesome with him, but Malthe refused. Weinstein allegedly responded to the rejection by calling Malthe an "ungrateful c***."
Shortly after this, Malthe moved out of the U.S.
Malthe, who has appeared in dozens of films and television shows since 1996, said that Weinstein wasn't the only man in Hollywood to sexually harass her, but her experiences with him were the worst.
"Things need to change," Malthe said. "Actresses should not have to demean themselves to be successful."
As far as criminal charges, Allred said that Malthe is currently considering her options.
Malthe is the latest among dozens of women to come forward with allegations that Weinstein sexually assaulted or harassed them. Earlier on Wednesday, Dominique Huett held a press conference where she discussed allegations that Weinstein performed oral sex on her after she said no. Huett is now suing The Weinstein Company for negligence, claiming they were aware of Weinstein's history before this allegedly happened.
A Weinstein representative has gone on record saying that "allegations of nonconsensual sex are unequivocally denied."
Allred spoke about how The Weinstein Company needs to step up and do right by those who have been victimized by their co-founder.
"It's easy to weep crocodile tears … but that is not enough," Allred said. "The shame and the anguish that Harvey's many victims experienced … continue and must be addressed."
Allred said she tried to set up a meeting with TWC officials to discuss these issues, but instead they suggested she meet with their attorneys, which Allred declined. She said she specifically wanted to meet with the board of directors, and their lawyers could be there, but she did not want to meet with the lawyers without the board.
Allred is suggesting that TWC set up a fund for victims, whereby those with claims would be able to submit evidence such as medical records or sworn statements, and appear before an arbitrator. The arbitrator could then award money from the fund, should they deem it appropriate, and decide how much.
[Image via TMZ screengrab]
Have a tip we should know? [email protected]