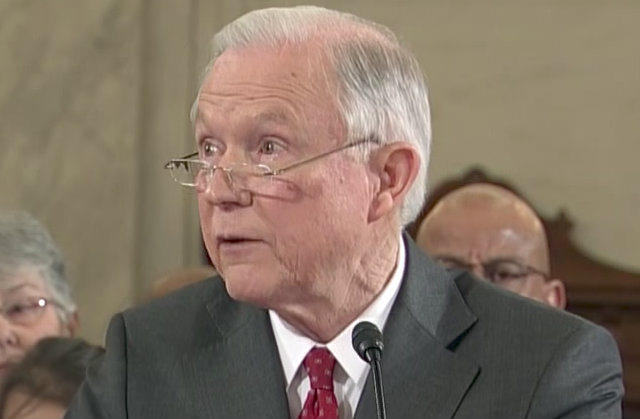 President Donald Trump suggested that the death penalty be used for drug traffickers in a speech on Tuesday. Now, Attorney General Jeff Sessions has issued a memo supporting the idea, and discussing existing laws that allow for it.
"Congress has passed several statutes that provide the Department [of Justice] with the ability to seek capital punishment for certain drug-related crimes," Sessions wrote.
While most of the laws Sessions mentioned deal with violent crimes related to drugs, such as a gun-related deaths that take place during drug trafficking crimes, murders that are part of furthering criminal enterprises, and violent crimes that aid racketeering, one deals only with continuing criminal enterprises that include extremely large quantities of controlled substances or extremely large amounts of money.
The memo cites "an unprecedented toll of addiction, suffering, and death" that drugs have inflicted on communities in the United States, blaming gangs, traffickers, and organized crime. Sessions suggested that districts appoint opioid coordinators and use "every lawful tool," including laws that allow for the death penalty.
"I strongly encourage federal prosecutors to use these statutes, when appropriate," Sessions said, "to aid in our continuing fight against drug trafficking and the destruction it causes in our nation."
The death penalty has never been used in such cases though, and a 2008 Supreme Court decision could make it difficult to do so now for some of them. In Kennedy v. Louisiana, the Court ruled that the death penalty was unconstitutional for a person convicted of raping a child because the child had lived. The idea that a death must occur as part of a crime in order for it to warrant the death penalty goes against the statutes that would allow it for mere violent crimes related to racketeering, or large quantities.
The other statutes, the ones that deal with gun deaths in trafficking crimes and murders having to do with criminal enterprises, might have better luck. At the very least, it appears that President Trump would want those laws enforced, because it's better than how he feels the system has been handling drug traffickers so far.
"We can have all the blue ribbon committees we want, but if we don't get tough on the drug dealers, we're wasting our time," Trump said. "And that toughness includes the death penalty."
[Image via C-SPAN screengrab]
Have a tip we should know? [email protected]