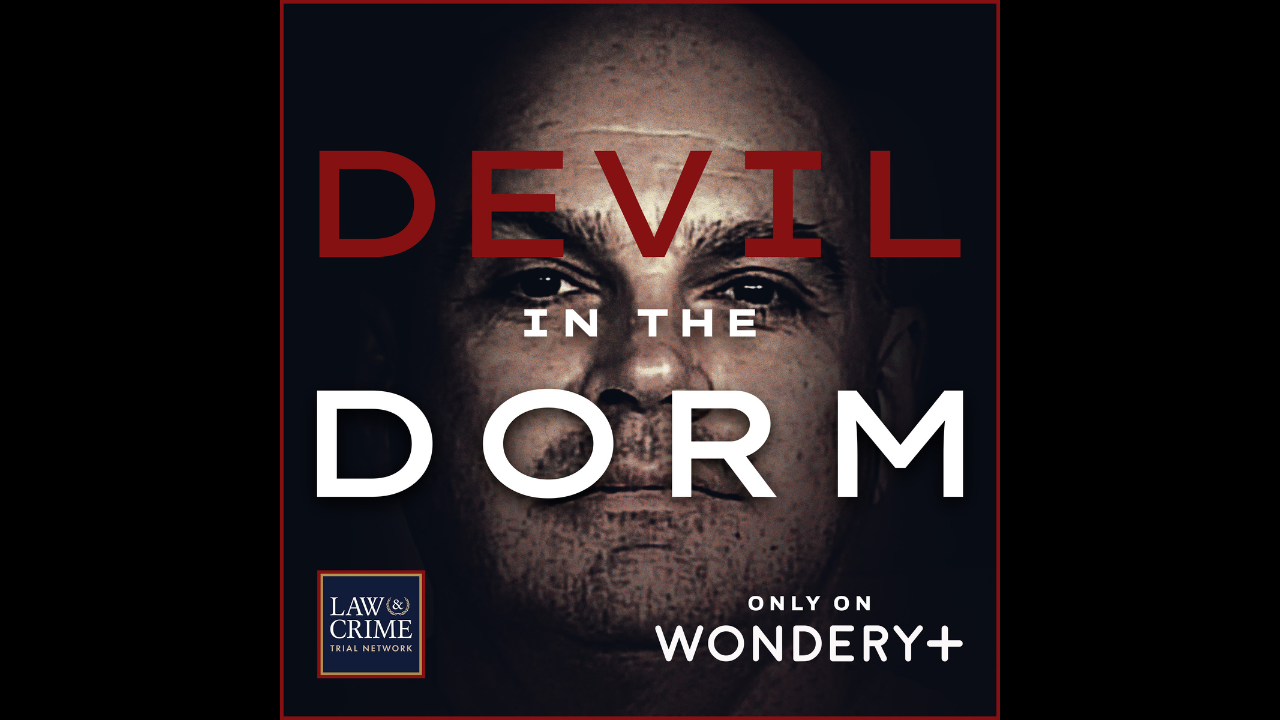 Host and Actress Elisabeth Rohm Takes Listeners Inside the Case of Convicted Sex Offender Larry Ray
NEW YORK, NY – Law&Crime, the leading live trial and true-crime network, announces the launch of its narrative podcast series, "Devil in the Dorm," hosted by actress Elisabeth Rohm. The twisted new series will be exclusively available ad-free on Wondery+ starting on January 30.
The six-part podcast series will dive into the case of Lawrence "Larry" Ray, a man who moved into a dormitory at Sarah Lawrence College in 2010 while his daughter attended the school. Ray, a now convicted racketeer and sex trafficker, preyed on students and is often described as the leader of a "sex cult" at the college.
Rohm brings her firsthand perspective to the project as a graduate and former board member of Sarah Lawrence College. Rohm, who also serves as an executive producer on the series, will take listeners through Ray's intrigue-filled backstory, his first exposure to the students through his daughter, his decade-long campaign of exploitation, and his conviction by a federal jury on crimes that put him away for decades. Mining the case's expansive court record, Rohm will navigate the often-startling, harrowing, and complicated facts of the case — and she will provide personal reflections on the case as an alum.
"I feel a sense of responsibility to tell this story not only in our podcast but in our upcoming feature film in development at Lifetime. It's a story I feel deeply connected to having been an alum of Sarah Lawrence and the mom of a teenager," said Rohm. "I hope it is a reminder for all of us to never turn a blind eye on our children, and that this podcast and forthcoming movie begin a conversation so that this type of victimization never happens again."
"The case serves as a terrifying wake up call to any parent who has a child in college, or is heading off to university," said Rachel Stockman, president of Law&Crime. "We are thrilled to work with Wondery+ and Elisabeth who bring a deep compassion for these young victims, and a unique perspective to our storytelling."
Stockman, Stephen Tolkin and Sam Goldberg also serve as executive producers on the podcast, which was produced and edited by Brad Maybe, written by Law&Crime's Adam Klasfeld, Eileen Macfarlane and Emily G. Thompson of The Shattered Window and Morbidology.
About Law&Crime
From the high-profile cases to the most compelling local trials, Law&Crime is the 24/7 linear and OTT network offering daily live trial coverage and expert legal commentary and analysis. Created by TV's top legal commentator and attorney, Dan Abrams, Law&Crime is dedicated to exploring the always intriguing world of the law while also offering original crime stories and legal programs to a broad, multi-platform audience.
About Elisabeth Rohm
Elisabeth Rohm is an American-German actress and director. Rohm's third feature, Girl in Room 13, starring Anne Heche, premiered on Lifetime in 2022. She also directed Switched Before Birth starring Justina Machado and Girl in the Basement with Judd Nelson for Lifetime. Rohm is also an Emmy Award-nominated actress for her starring role on Law & Order. She's also known for her work on Heroes and Jane the Virgin, among many others. Rohm won a SAG Award for Best Ensemble for David O. Russell's American Hustle and later reunited with him on Joy. Rohm is repped by Buchwald and Luber Roklin.
Have a tip we should know? [email protected]