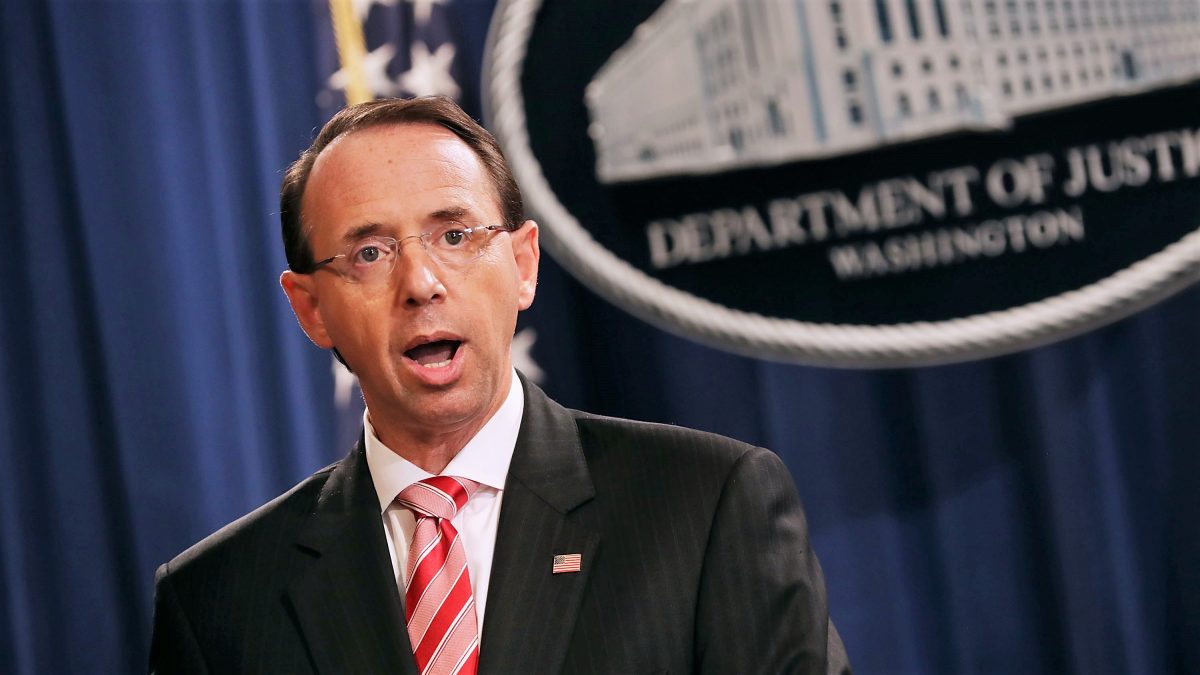 On the heels of the announcement that 12 Russian military intelligence officers were being indicted as part of the ongoing Russia Probe, a group of conservative Republican members of Congress is considering a push to impeach Deputy Attorney General Rod Rosenstein as soon as Monday.
According to Politico, the timing of the move is "fluid."
Rep. Mark Meadows (R-N.C.) of the House Freedom Caucus reportedly had the impeachment documents on the floor of the House of Representatives today. Freedom Caucus co-founder Rep. Jim Jordan (R-Ohio) is said to be building support for the impeachment.
Law&Crime reported previously that Rosenstein has been in hot water with at least some Republicans in Congress for some time. In mid-April, he folded under pressure and provided Congress with documents which were part of the Russia investigation. His alternative was a contempt charge.
In early May, upon hearing that at least some members of the House Freedom Caucus had drafted articles of impeachment against him, Rosenstein fired back. Back, then, he called the impeachment articles an attempt to "extort" the Department of Justice. He also more or less accused those who drafted the articles of being spineless for refusing to include their names on the articles. In mid-May, Republicans attacked Rosenstein again, claiming his decision to appoint special counsel Robert Mueller amounted to a massive "fishing expedition" for dirt on President Donald Trump.
National Review clarified that while some members of the House Freedom Caucus are behind the attempt at impeachment, the entire caucus has not "endorsed" the move. Politico noted that House Speaker Paul Ryan, (R-Wisc) has been reluctant to go after Rosenstein, but that House Judiciary Committee Chairman Bob Goodlatte, (R-Va.) blames Rosenstein for limiting FBI agent Peter Strzok from testifying fully before his committee in what became a hotly contested hearing  on Thursday.
Some argue that attempts to impeach Rosenstein are merely an attempt to "sabotage" the Mueller investigation.
Rosenstein appointed Mueller to investigate whether Russian operatives interfered with the 2016 election and whether Americans colluded with the effort, particularly those involved in the campaign of then-candidate Trump. Rosenstein, the number two authority in the Department of Justice, assumed managerial control of the investigation because Attorney General Jeff Sessions recused himself from the matter.
[Image via Chip Somodevilla/Getty Images]
Have a tip we should know? [email protected]
Aaron Keller - Deputy Editor-in-Chief