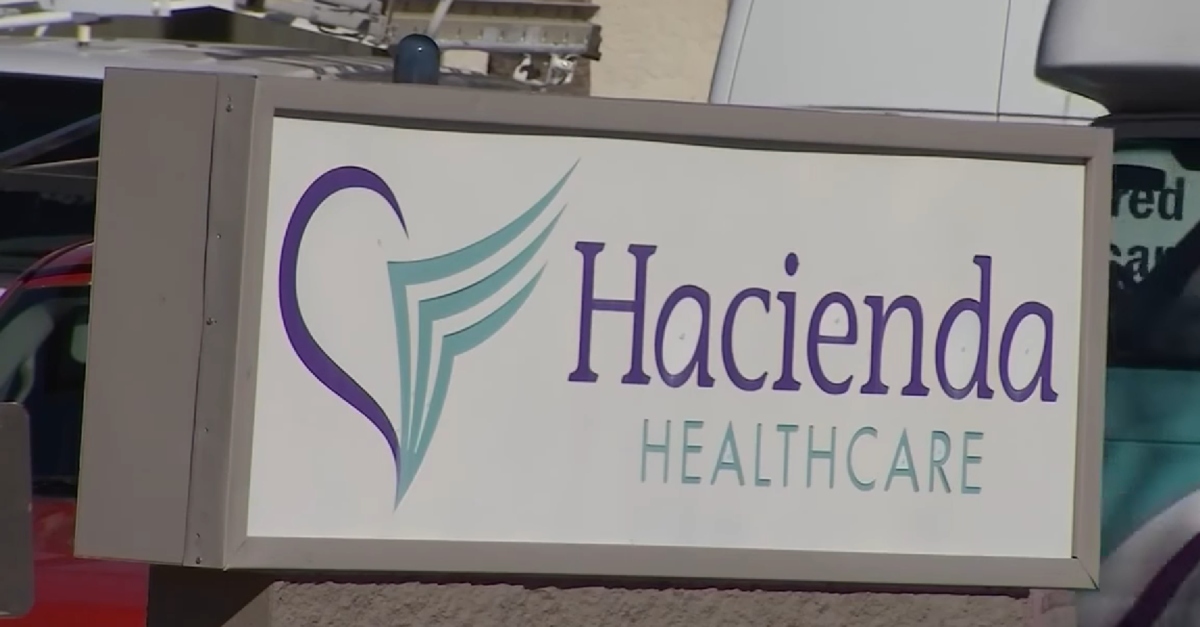 Police in Phoenix, Arizona have arrested a licensed practical nurse after a woman with significant intellectual disabilities gave birth at the long-term health care facility where the nurse was employed.
According to the City of Phoenix Police Department, Nathan Sutherland, 36, was arrested on Tuesday evening and charged with one count of sexual assault and one count of vulnerable adult abuse in connection with sexual assault. On Wednesday, Sutherland was booked into the Maricopa County Jail for processing.
Phoenix Police Chief Jeri Williams offered the broad strokes of her department's investigation during a Wednesday morning press conference.
"This matter came to our attention on Saturday, December 29 when we received a 911 call of a baby in distress," Williams noted, "most of you have listened to that 911 tape."
Law&Crime previously reported on that harrowing 911 call. As the dispatcher attempted to obtain the address of the incident, a person identified as a nurse at the Hacienda HealthCare Facility could be heard shouting, "The baby's turning blue! Baby's turning blue! Baby's turning blue!"
The police chief continued:
We responded to the scene and began the process of doing what I continually say that the men and women of this department do each and every day–that we're sworn to protect. From the minute we first became aware of this crime–a sexual assault–we have worked virtually non-stop every day, every night, seven days a week–trying to solve and resolve this case. The investigation was and still is the highest priority for our department. Through a combination of good ole fashioned police work, combing through evidence, talking to people, following up on information–combined with the marvels of DNA technology–we [were] able to identify and develop probable cause…
Williams also noted that Sutherland was "responsible for providing care to the victim" at the time she was sexually assaulted.
The 29-year-old victim has been incapacitated since she was three-years-old after almost drowning. Her prognosis has been widely described as "vegetative" or "comatose" by the media, though her family has disputed such characterizations.
"The victim's parents would like to make clear that their daughter is not in a coma," a statement from the family's attorney noted on Tuesday. "She has significant intellectual disabilities as a result of seizures very early in her childhood … The important thing is that she is a beloved daughter, albeit with significant intellectual disabilities. She has feelings, likes to be read to, enjoys soft music, and is capable of responding to people she is familiar with, especially family."
On December 29, the woman gave birth to a baby boy. None of the staff at Hacienda HealthCare were even aware that she was pregnant until the baby was born.
On January 8, Phoenix police used a search warrant to collect DNA from all male Hacienda HealthCare employees. Police spokesperson Sgt. Tommy Thompson confirmed that a match between Sutherland's DNA and the baby boy's DNA led police to arrest the registered nurse.
Thompson also noted that the baby is out of the hospital and "doing quite well."
Phoenix Mayor Thelda Williams opened Wednesday morning's press conference with a somber thank you to the authorities who arrested Sutherland.
"I know that a lot of people were involved," the mayor said. "I know our officers took this crime to heart. This is a facility that you should be safe in and someone wasn't."
[Image via AZ Family screengrab]
Have a tip we should know? [email protected]