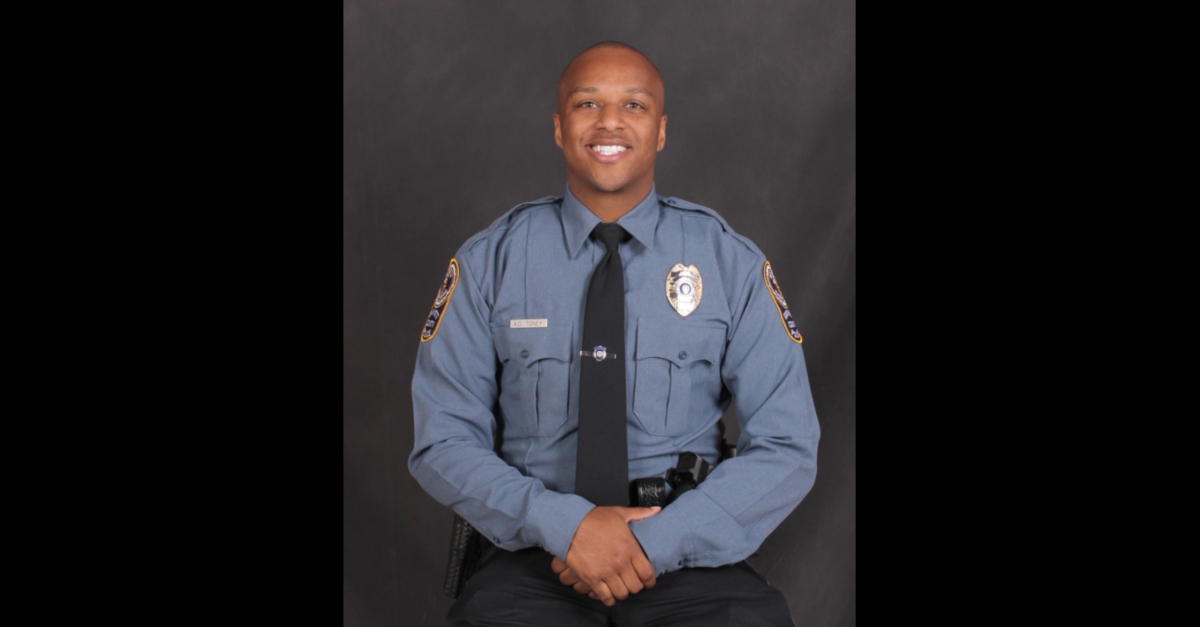 Cops in Gwinnett County, Georgia are after someone they say is involved in the shooting death of 30-year-old police officer Antwan Toney. Tafahree Maynard is at large, and charged with aggravated assault and felony murder, police said. Another suspect, Isaiah Pretlow, has been arrested, and is charged with aggravated assault.
Isaiah Pretlow (in dreadlocks) has been arrested and charged with Aggravated Assault. Still at large is Tafahree Maynard, who is charged with Aggravated Assault and Felony Murder in connection with Ofc. Toney's murder. Anyone with information on Maynard should call 770-513-5710. pic.twitter.com/18w0JXV1VG

— Gwinnett Police Dept (@GwinnettPd) October 21, 2018
The GPD was Toney's first police job, and he was shot just six days short of his third anniversary, cops said. He previously worked as a security guard.
Police say Toney and other officers showed up to a scene regarding a suspicious vehicle near Shiloh Middle School. Cops approached, but shots were fired from the vehicle, authorities said. One of these hit Toney, police said. The other officers pulled him to cover. Returning shots were fired, but police said that it's unclear if anyone was hit.
The suspicious vehicle fled the scene, Gwinnett police said, but it crashed only a short while later. "As many as four suspects" ran off, cops said.
Toney died at the hospital.
Pretlow was the driver, and did not get hit by returning fire, according to police. Cops say they think Maynard is the shooter who took Toney's life. The identity of any other suspects remains unknown.
That's unclear at this point .Police chief seemed to say these are only two now . But witnesses said 4 ppl ran. Police say Pretlow was the driver , accused murderer was passenger.

— Tony Thomas (@TonyThomasWSB) October 21, 2018
[Image via Gwinnett Police Department]
Have a tip we should know? [email protected]