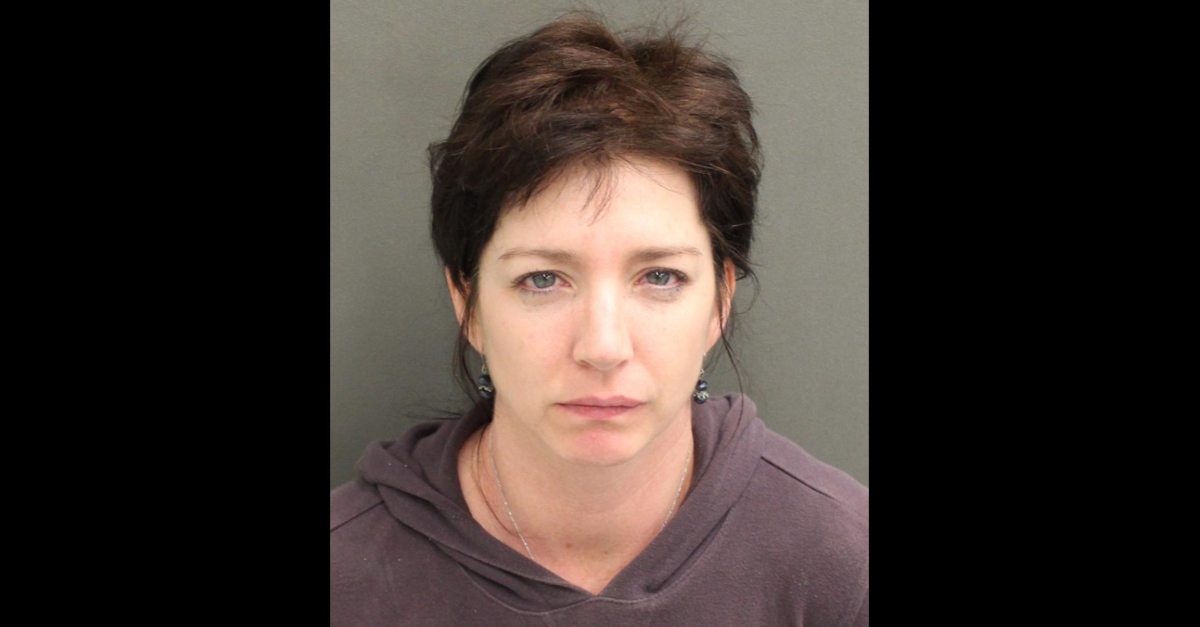 Florida woman Danielle Justine Redlick allegedly claimed that her late, estranged husband Michael Redlick died after a self-inflicted wound, but Winter Park cops said her story didn't add up. Authorities claim she murdered him, tried to clean up the evidence, and only called 911 the morning after the death, according to an affidavit obtained by Law&Crime. The defendant was arrested Wednesday, and booked into an Orange County Jail on a count each of second-degree murder and tampering with evidence.
Police allege that Danielle Redlick's story started falling apart from pretty much the moment she called 911 at 9:28 a.m. on January 12. She said that there was a "tragedy at her home," and that her husband may have had a heart attack.
"I don't know,' she allegedly said. The operator asked if she just found him, but Redlick then acknowledged that it happened the night before. She said he had stabbed himself, and she suggested it might have brought on the heart attack.
She later told police she was in the kitchen eating a McDonald's burger on the night of January 11, when Michael Redlick got angry, took a bite out of the meal, and spit it at her face, according to the affidavit. He allegedly grabbed her arms, pushed her down on the ground, then later shoved her head to the stove, while rubbing his fist against her face. Danielle Redlick allegedly claimed she grabbed a knife and held it as if she was going to stab him, but he grabbed the weapon, and began making "stabbing motions" at himself. According to the affidavit, she claimed to hide in the bathroom, while Michael Redlick was at the door apparently referencing the movie Cape Fear by repeatedly saying the name "Sam Katie." [There's no character in the film named Sam Katie in the 1962 film and its 1991 remake, but there is a Max Cady, and a Sam Bowden.]
Then, she allegedly said, it was quiet, she looked outside, and followed a trail of blood to the living room, where the victim was badly hurt. The suspect allegedly claimed she tried to clean up the blood with a towel, and perform CPR on the victim, but he started vomiting. She recalled lying down next to him, wondering what she was going to do, and that she couldn't immediately call cops because she couldn't find her phone. She also allegedly added that she was afraid because she was on probation. Redlick claimed to wake up the next morning, continued to clean up, then slit her wrists when she didn't know what to do, according to the affidavit. Then she called 911.
Police claim that story is full of lies. Investigators found no signs of vomiting. Medical examiners determined that bruising on Michael Redlick's left arm was consistent with defensive wounds. Fingernail impressions were on his left forearm, according to the affidavit. Another bruise was found on the inside upper lip of his mouth, authorities said. There were no signs of a heart attack. There were no signs of the bruising consistent with CPR, and on that note, the ribs were intact.
The victim sustained a stab wound to the shoulder, and examiner determined that he would've bled out in five or six minutes, experiencing "light headedness, unsteadiness, and fatigue."
Cops used a search warrant to get Danielle Redlick's account information from a dating app called Meet Mindful. They said she was looking through messages on the app on January 12 at about 7:22 a.m.–about two hours before calling 911.
Some of those who knew the Redlicks said Danielle had a violent temper, and the couple went through an on-and-on relationship. One woman claimed the defendant once had five drinks, and then "switched," starting to punch at her for no reason. She claimed to see the suspect at a youth football game the night of January 11, and that Redlick seemed to be in the same mood.
A man who knew Michael said the victim reported having a "rocky" relationship with Danielle, and that she had angry outbursts. According to this man, Michael Redlick used to say that Danielle "is crazy, but as long as I hide the steak knives, everything will be fine."
Orange County records show that the suspect has a public defender. Redlick was previously arrested because it was determined during the murder investigation that she had been drinking, which violated her probation over a fight at a Wawa gas station in January 2018.
Note: Added clarifying details from the affidavit, updated with information about Redlick's attorney situation, and added that she was previously arrested for a suspected probation violation.
[Mugshot via Orange County Sheriff's Office]
Have a tip we should know? [email protected]