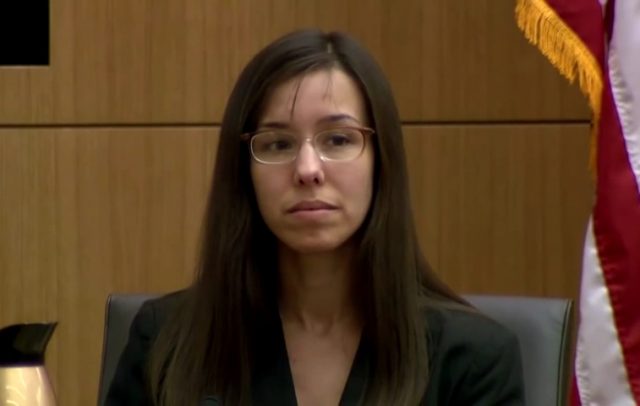 Convicted murderer Jodi Arias has filed a civil lawsuit against her former defense attorney, L. Kirk Nurmi.
Filed in the Maricopa County Superior Court on Tuesday, the lawsuit claims Nurmi violated attorney-client privilege by penning a tell-all book without Arias' consent prior to her exhaustion of the appeals process.
The lawsuit also accuses Nurmi of unjust enrichment for that self-published legal memoir.
The title of Nurmi's book is "Trapped with Ms. Arias"–a decision made in part because Arias apparently despises being referred to as a "Ms." The publication of the book has resulted in Nurmi being disbarred after Arias' present attorney, Karen Clark, filed a Bar complaint on her behalf. Nurmi surrendered his law license last November.
Nurmi replied to questions regarding Arias' lawsuit against him with the following statement. He wrote:
Standing up to the abuse Ms. Arias imparted upon me over the years was an important part of my personal transformation and I will continue to fight this battle with vigor as I defend against this lawsuit which is best viewed as a continuation of Ms. Arias' pattern of attacking men whom she feels have wronged her. Of course, no one person has suffered at the hands of Ms. Arias (more) than Mr. Alexander and I look forward to clearing the air on all the derogatory assertions that Ms. Arias made about him as I defend against the outrageous claims made in this lawsuit.
Arias was sentenced to first-degree murder for the 2008 killing of her on-again-off-again boyfriend Travis Alexander. Nurmi was in charge of Arias' legal team during her 2013 murder conviction and 2015 sentencing.
The trials themselves were favorites of courtroom watchers due to the sexual undertones provided by a series of nude photographs the former couple had taken of one another and a recorded phone sex conversation which were used as evidence–and then shared widely across social media.
Arias' lawsuit also claims that Nurmi was obsessed with those sexual details and that Nurmi frequently taunted Arias about the nude photographs–bragging about how large they'd been blown up and even using one of them as a screensaver on his computer.
A statement released by Arias' present attorneys reads, in part:
Mr. Nurmi's self-published book about his representation of Ms. Arias revealed confidential and privileged information, and violated his most basic ethical and fiduciary duties to Ms. Arias. What he did was knowingly and intentionally wrong. His book violated his duty to protect confidential information and also contained false statements about Ms. Arias and gross misstatements about her case. He wrote the book in a selfish attempt to 'redeem' his public image and enrich himself to the extreme detriment of Ms. Arias.
The lawsuit asks that all of Nurmi's proceeds from the book–sales and appearances–be paid to Arias.
[image via screengrab]
Follow Colin Kalmbacher on Twitter: @colinkalmbacher
Have a tip we should know? [email protected]