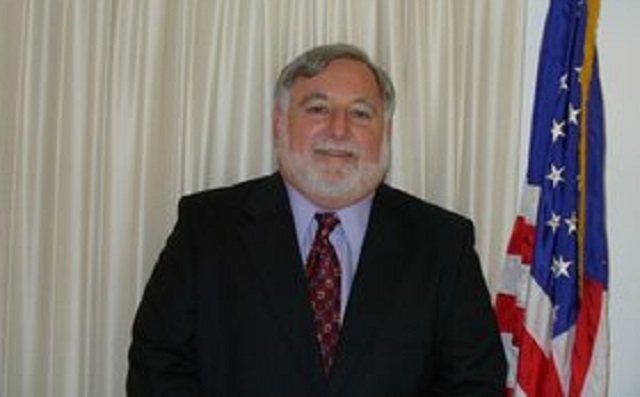 Catherine Padilla wanted speed bumps in her neighborhood. Her mayor, David Stewart, allegedly said if she wanted to guarantee that it would happen, there was something she could do: sleep with him.
The indecent proposal allegedly took place in 2015, but Padilla just decided to file a complaint with the Florida Commission on Ethics in January of this year.
"I'm finally strong enough. My feet are on the ground now," Padilla told the Palm Beach Post. "I'm finally feeling strong enough to come forward with this."
Padilla claims this wasn't the first time Stewart propositioned her. She says the two had been friends, and that about three years ago when they were driving in Stewart's car after lunch, he pulled into a motel parking lot. She told the Post that Stewart wanted them to get a room and have sex, but she told declined and they left.
Padilla, whose husband passed away in January 2015, was already lobbying for speed bumps in her neighborhood, which she felt was a necessary safety measure. She claims that before the Town Council held a meeting where they were to vote on whether to pay for the speed bumps, Stewart called her. He allegedly told her it wasn't too late to guarantee the speed bumps by sleeping with him. She said no.
The town approved the speed bumps anyway.
Stewart acknowledged the complaint, but denied the allegations.
"These accusations are totally and completely false," he told the Post. "I won't dignify them by commenting. I continue to focus on doing my best for the residents of our town and community."
On January 11 of this year, after finding out about the complaint, Stewart went to Padilla's home. She called the cops, telling them that she heard banging on the side door and saw Stewart there, looking "as if he was ready to kill someone," according to a police report. Padilla told cops that she heard someone try to open the door, at which point she called 911, and then she saw Stewart drive away.
When police talked to Stewart, the mayor admitted that he went to Padilla's home to talk to her about the complaint, but said all he did was knock on the door and then leave when Padilla didn't want to talk to him,  the report said.
Stewart is up for reelection in March, but he is running unopposed.
[Image via The Town of Lantana]
Have a tip we should know? [email protected]