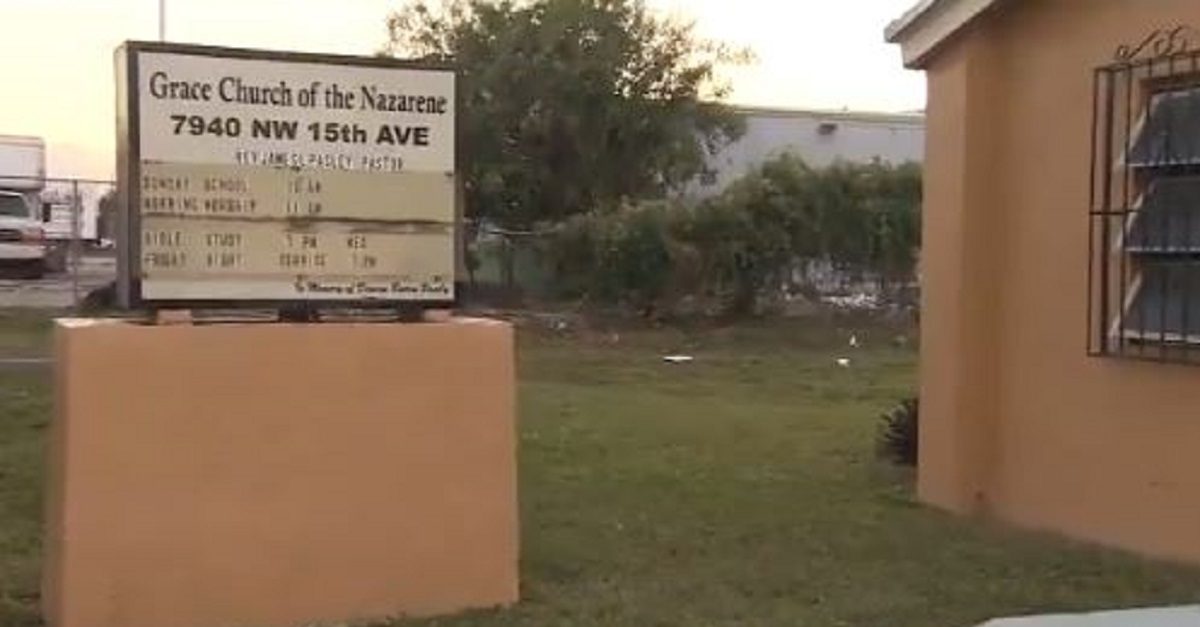 A Florida pastor is upset that the area behind his church is apparently being used for some less than holy purposes. Rev. James Pasley, pastor of the Grace Church of the Nazarene in Miami-Dade County, claims that prostitutes have been regularly utilizing the back of the house of worship for business.
Every morning a pastor would find his church surrounded by used condoms and lubricant. Grace Church of the Nazarene was becoming a hotspot for prostitution. @MiamiDadePD went undercover and busted eleven men and two women. @wsvn pic.twitter.com/jfucuHSHjt

— Brian Entin (@BrianEntin) February 12, 2019
"They come every night. It's a regular thing," Pasley told local WSVN.
Not only does the pastor say that prostitutes are using the area as their own personal work space, he also claims they've been leaving behind, um, office supplies. He says pornographic DVDs, lube, and used condoms have been spotted in the yard.
"If you don't respect yourself, how are you going to respect the house of God?" he said. "I mean, to come into the back of a church to engage in sexual activity is ridiculous."
LaKisha McSwain, who lives nearby, says she's found items on her property as well.
"When we came outside and actually saw the condoms and the condom wrappers directly in my yard, I was furious. It was, like, I couldn't take it anymore," she said.
The local station was there when undercover officers went there. Before long, they received multiple requests for sex.
"In just a matter of a couple of hours, we were able to arrest 13. If we would stay here even longer, of course, throughout the night, the numbers would go even higher," said Alvaro Zabaleta of the Miami-Dade Police. Those arrested included 11 men and two women.
This action comes after at least one local resident grew tired of seeking a response from law enforcement, without seeing results.
"Nothing ever happened from me continuously calling the police, so I got discouraged, and I stopped calling," Panitra Jackson said.
It seems that WSVN's involvement led to the recent operation and arrests, as Zabaleta noted, "Together, between the community, the police department and the media coming all together, we have an operation that was a success."
[Image via WSVN screengrab]
Have a tip we should know? [email protected]