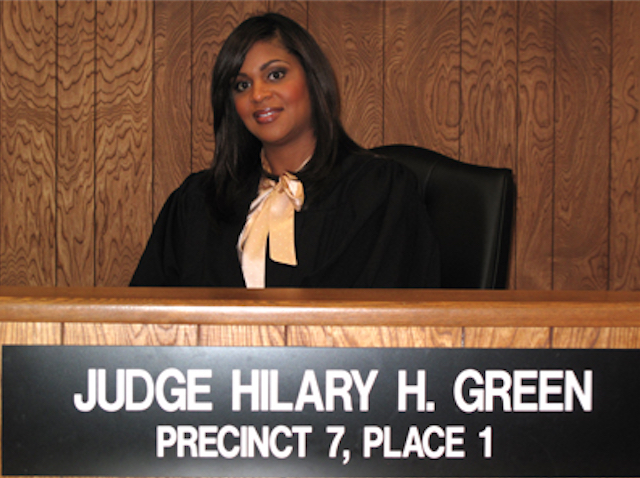 A judge in Texas stands accused of living quite a wild life.
Justice of the Peace Hilary H. Green was suspended without pay by the Supreme Court of Texas last Friday night amidst accusations that she engaged in drug use, sexted her bailiff, and hired prostitutes with an ex-lover on multiple occasions for threesome purposes.
Green was also accused–by that same ex-lover–of having received marijuana from one of her bailiffs who stripped it "off a kid in her courtroom."
For her part, Green acknowledges the use of marijuana and ecstasy, as well as an addiction to cough suppressant Tussionex, but says that the drug use stopped entirely sometime around late 2013 or early 2014; she denies hiring prostitutes and taking drugs from detainees.
Doctors have testified that Green is not currently using drugs.
The sanctioned judge was also sanguine about once using her bailiff to purchase $500 worth of cough syrup on the black market from a drug dealer code-named "lover boy" and that she occasionally did the meet herself, at "a gas station on the southwest side of Houston."
The tawdry details of a legal life lived outside the margins of the law all became public knowledge during Green's divorce from her former husband, City of Houston Controller Ronald C. Green. The estranged couple have one child together.
During divorce filings, Hillary Green accused her husband of cheating on her and hiding assets. He counter-charged that she was a drug addict who had sex with witnesses and litigants. The nature of the accusations led the State Commission on Judicial Conduct to investigate and file a formal complaint against the judge, culminating in a 316-page report recommending her suspension released earlier this year.
Though the commission's recommendation was finally taken to heart on Friday night, the litany of tawdry charges against Green have been common knowledge in her district for quite some time. She was initially appointed to her position in 2007, but has been re-elected twice–overwhelmingly so in 2016.
Green's lawyer, Chip Babcock, told the Washington Post: "She's very popular in the precinct. Lots of communication in the community is about how horrible this is."
Green has not been charged with a crime. An investigation is underway to suss out truth from fiction.
[image courtesy Harris County]
Follow Colin Kalmbacher on Twitter: @colinkalmbacher
Have a tip we should know? [email protected]