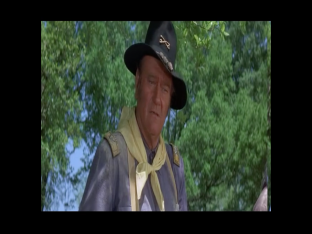 Silver screen legend John Wayne is considered one of the greatest actors of all-time, still appearing towards the top of such lists today, even though he has been dead for over 35 years.  For several generations of Americans, Duke, as Wayne was known, epitomized what it meant to be an American Icon.  But when a California lawmaker proposed a rather benign resolution to honor Wayne's accomplishments and career, things quickly exploded into a heated 20 minute debate and the resolution ultimately failed, by six votes.
Opponents of the resolution claimed the state of California has no business honoring a man who they say had a history making racially insensitive remarks off-screen and playing characters of questionable morals on screen.
NBC News reports:
"I think when we come here to support a resolution, it's something we believe in, it's something we can wrap our arms around," said Assemblyman Mike Gipson, a Democrat and an African-American. "Certainly his movies are one thing, but in terms of his private life, and also his views, I find them very offensive."
Assemblywoman Lorena Gonzalez, also a Democrat, said she couldn't support the resolution due the characters Wayne often played in Westerns movies where "[t]here was a lot of slaughtering of Native Americans."
Irvine Republican Don Wagner, a supporter of the measure, told fellow lawmakers to remember, "Everyone of us is imperfect."  Wagner pointed to the shortcomings of Franklin Roosevelt and Earl Warren, two widely revered figures.
Huntington Beach Republican Matthew Harper, the resolution's sponsor, never imaged a basic resolution would cause such backlash.  Especially, considering the Wayne proposal was unanimously approved three days earlier by the rules committee.
"I'm surprised at the controversy, to be honest," Harper said.
Assemblyman Harper was not as measured in his response in a press release put up on his webpage later on Thursday.  The release reads:
A resolution commemorating the life and legacy of actor John Wayne was killed on the Assembly Floor.

After Harper presented the resolution, which highlights John Wayne's service to American troops during World War II and his portrayal of the American values of integrity, perseverance and self-reliance, a handful of the most radical and Left Wing Assembly Democrats rose to assassinate the character of one of America's most well-known Anti-Communists.

"Today is the day that political correctness prevailed over a profoundly American figure recognized throughout the world" Harper said. "Opposing the John Wayne Day resolution is like opposing apple pie, fireworks, baseball, the Free Enterprise system and the Fourth of July!"

Of the 52 Democrats in the Assembly, seven voted in favor of the measure, including Assemblyman Jose Medina (D-Riverside), who spoke in support of John Wayne's efforts to pass the Panama Canal Treaty. Another Democrats 24 abstained from voting.

"While most Americans continue to celebrate John Wayne's memory as one of our most popular actors and public figures long after his death, the extreme Left Wing political forces in this state turn their backs on a historical figure synonymous with America itself," Harper said "Fortunately, I do not believe the citizenry of California would agree with the majority in this chamber."
Wow.
So, was the California State Assembly correct to deny the "John Wayne Day" Resolution?
Tell us what you think in the comments, below.
[image via screengrab]
Have a tip we should know? [email protected]