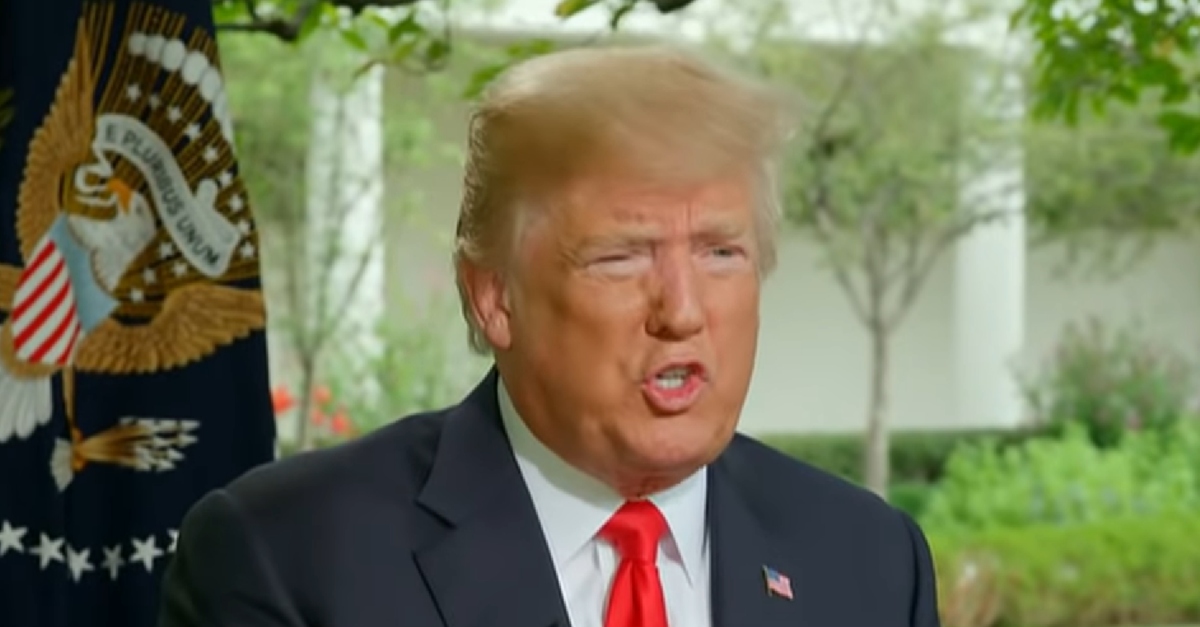 Prosecutors in drug kingpin Joaquin "El Chapo" Guzman's upcoming trial want President Donald Trump's smack talk about informants kept out of court.
"A government official's recent comments in which he criticized cooperating witnesses in a wholly separate investigation, calling them 'flippers' whose use probably should be illegal, have been highly publicized," prosecutors wrote in a new filing obtained by Law&Crime. "The government requests that the Court preclude the defense from referring to those comments during argument or questioning of witnesses. These statements have no bearing on the facts at issue in this case or the particular cooperating witnesses that the government expects to call at trial."
That is a pretty obvious call back to the president's interview last month on Fox & Friends. He complained about "flippers," after being asked about the guilty plea of his former attorney Michael Cohen and guilty verdict of campaign manager Paul Manafort.
"Everything's wonderful and then they get 10 years in jail and they flip on whoever the next highest one is, or as high as you can go," he said. "It almost ought to be outlawed. It's not fair."
Jury selection in Guzman's trial is scheduled to begin November 5 in a Brooklyn federal court. In their partially redacted 101-page filing, prosecutors attempted to lay out limitations to what can or cannot be said in front of the jury.
Prosecutors' concerns about Trump are not entirely random or unprecedented. Last month, a defense lawyer tried to introduce Trump's comments to the jury in an unrelated drug case.
Lawyer Kafahni Nkrumah argued it was relevant to his defense of client Jamal Russell. Federal Judge Gregory H. Woods rejected the claim, and said Trump's comment was irrelevant to the case.
Guzman's prosecutors are probably lucky the president didn't directly comment on El Chapo.
Then-candidate Trump called former Army. Sgt. Bowe Bergdahl a traitor, and recommended he be executed for abandoning his post.
"If I get in, we will review his case, I promise you," he said in a December 2015 speech.
President Trump largely declined to comment about Bergdahl's guilty plea last year before sentencing, but added, "I think people have heard my comments in the past."
Those comments played into the defense's favor. The presiding judge, Army Col. Jeffrey R. Nance, cited it as mitigating evidence. Bergdahl faced a life sentence. In the end, he dodged prison time, though he was demoted to private, was ordered to a dishonorable discharge, and had to forfeit some pay.
At any rate, Guzman's prosecutors aren't just worried about the Trump administration's influence on the case. On Monday, they repeated a request for the judge to prohibit El Chapo's defense from mentioning the Fast and Furious operation.
ATF officials permitted the illegal sales of almost 2,000 firearms in a bid to locate sells and buyers. Publication of the tactic hit the Obama administration, and became directly linked to El Chapo when it was reported that one of the guns, a .50-caliber rifle, was allegedly found in one of his hideouts. Prosecutors on Monday argued that there's no evidence making the operation relevant to the case.
[Screengrab via Fox News]
Have a tip we should know? [email protected]