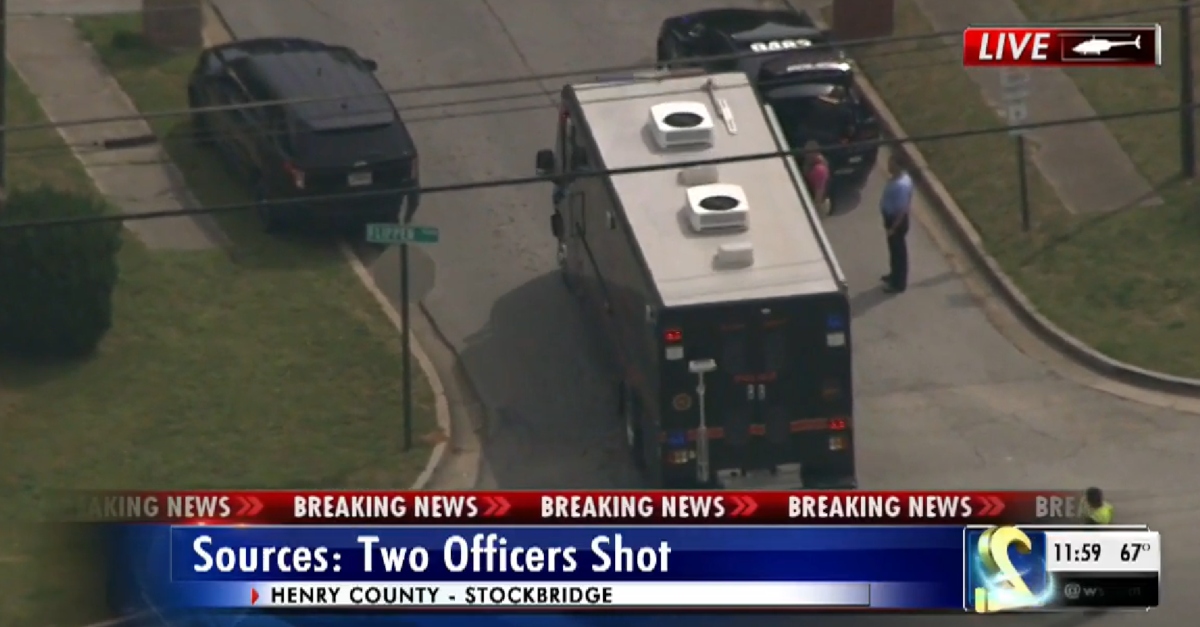 A hostage situation in Henry County, Georgia has ended in tragedy. Anthony Tony Bailey, 47, killed Sandra White and her 16-year-old son Arkeyvion White, and then committed suicide during a standoff with cops, according to the Atlanta Journal-Constitution. Sandra White's mother confirmed that the victim was pregnant.
Available information was sparse as the incident unfolded Thursday morning. The situation remained fluid into the afternoon and beyond. Someone called authorities to the scene at 10:46 a.m., police said. Two responding officers sustained non-life threatening gunshot wounds.
One officer was struck in the hand, a police spokesman told reporters. The other may have been struck in the vest and in the hip. The first seemed to have helped his colleague out of the residence. The officers are said to be veterans who have been with the department for around seven years. Cops said that they did not return fire.
The police spokesman said there was a 16-year-old being held hostage at the residence, and possibly a woman as well.  The 911 call led them to believe that at least one person was injured.
Officers later said that Bailey refused to confirm if White and her son were okay. They eventually fired tear gas into the home.
"We felt [the suspect] was being dishonest," Henry County police Captain Joey Smith. "We had no contact with the 16-year-old, or any idea that the female was OK."
The situation reached a sad conclusion early Friday. Officers no longer heard any sounds coming from the residence, so SWAT entered the home. Once inside, they found everyone was dead. Sandra White was in the garage, while her son and Bailey were upstairs in a bedroom.
Arkeyvion's grandmother Kathie White said her daughter was pregnant and that the baby was to be named Antonio.
She also said the suspect was Sandra's boyfriend. White and her husband said that Bailey had a drinking problem, but that they didn't know about the abuse until Thursday, when their daughter tried to kick him out of the home.
Arkeyvion was an honor student, they said. His mother Sandra was a nurse, who had just gotten a new home and car.
[Screengrab via WSB-TV]
Have a tip we should know? [email protected]