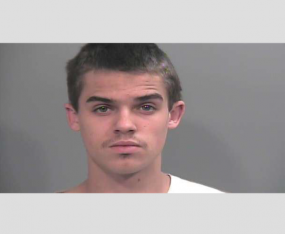 An 18-year-old has been charged with felony robbery after police say he put soda in a water cup at a local McDonald's in Springdale, AR.
According to a police report obtained by 40/29 News, Cody Morris, 18, and two other unidentified individuals went through the drive-thru and ordered three ice-waters.  The McDonald's manager told police the three individuals then parked and came inside the restaurant where they dumped out the ice-waters and filled the cups with soda.
In the police report, the manager said he confronted the three individuals and asked them to return the sodas.  Two of the individuals complied with his request, one did not, according to the manager.
In an incredible show of dedication to the job, the police report says the manager was struck by Morris' vehicle when he attempted to prevent the perp from leaving.  The manager also told police he was hit on the hand and struck by the vehicle again as he attempted to take the keys out of the ignition.
40/29 News reports Springdale Police discovered the suspect's vehicle parked at a nearby bowling alley, where they arrested Morris.  Police booked Morris into the Washington County Detention Center on a charge of felony robbery, according to the report.  He is scheduled to make his first court appearance on Friday morning.
[image via Washington County Detention Center]
Have a tip we should know? [email protected]