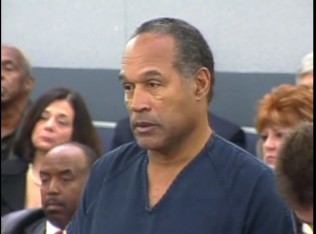 O.J. Simpson may be released as soon as next year from the Nevada prison where he is currently serving time for an armed-robbery conviction.  When the Juice is released, one of his longtime friends is now saying he thinks the former NFL-star running back will finally confess to murdering Nicole Brown Simpson and Ronald Goldman.
The New York Daily News spoke to the former friend, Ron Shipp, at the Los Angeles premier of a new ESPN documentary series O.J. Simpson: Made in America.  According to the report, Shipp believes O.J. will have to come clean in order to live with himself.
"The guy is in total torment today," Shipp told the Daily News. "Someone told me he is 300 pounds and he looks horrible. O.J. has always felt his appearance meant everything and now, deep down inside, he is starting to live with himself."
When asked if he believed Simpson will admit to the crime, Shipp replied, "I do."
Shipp told the newspaper that by coming clean O.J. can finally put to rest all of the conspiracy theories, including one that claims his son, Jason Simpson, was the actual murderer.
"I hope one day he actually will rid us of all the doubt and all the conspiracy theories and say 'sorry I cannot go to prison, but I am sorry I did it,'" Shipp said.
He added, "I got a call about a conspiracy theory about Jason being the killer and I thought, man, come on Juice, just say 'my son didn't do it.'"
Part I of the ESPN documentary series O.J. Simpson: Made in America premiers on ABC on Sunday, June 11 at 9:00 PM EST.  Parts II-IV will air later in the week on ESPN.
Have a tip we should know? [email protected]