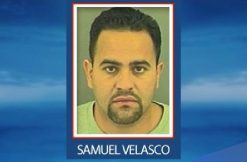 On Monday, a Texas jury found Ruth Sagredo's ex-husband Samuel Velasco Gurrola guilty for masterminding her 2008 death.Sagredo and Velasco, both Texas residents, married back in 2004. That relationship soon spoiled, and they separated on January 12, 2005. Soon after, a grand jury indictment stated that Velasco had sexually assaulted one of her relatives, a young child.
Prosecutors could only rely on two witnesses: The girl, and Sagredo. But the child was too young, so only Sagredo could take the stand.
"She was very adamant about getting this person prosecuted and have him pay for what he did," her first husband Eduardo Avalos testified last week, according to CBS4.
If convicted, Velasco faced 99 years behind bars, so recruited his brother Emmanuel Velasco Gurrola and sister Dalia Valencia in a murder plot, investigators said in court.
"They discussed needing to eliminate Ruth so she would not testify against him," FBI Special Agent Jason Kaunas testified during a pretrial hearing in 2015, according to Indy 100.
He said the three trafficked drugs across the Mexico-US border. Using their connections, they had Sagredo's father Francisco Sagredo Villareal killed in Juarez, Mexico. It was setup to resemble a cartel murder. Presumably, her father's funeral would lure Ruth to Juarez, so they could have her taken out.
It didn't work. She remained in the states. According to last week's witness testimony, they tried again by successfully plotting the murder of Ruth's sister Cinthia Sagredo, who like dad, also lived in Juarez. This worked, and Ruth arrived. Cinthia's November 22 funeral procession was ambushed, and Ruth and co-worker Roberto Martinez were killed.
"The government is going to come up with all types of arguments because there is no evidence," Velasco's attorney Brock Benjamin said in court on Monday, according to CBS4.
The jury didn't agree. They only needed three hours to decide that yes, Velasco committed three counts of conspiracy to commit murder, three counts of conspiracy to cause foreign travel for murder for hire, and one count of murder for Martinez's death.
He faces a mandatory life sentence. A judge will make that official in a sentencing hearing scheduled for January. Benjamin told CBS4 he'll file an appeal for his client. Meanwhile, the siblings both pleaded guilty to conspiracy, and they'll face sentencing in December.
[mugshot via El Paso Police Department and CBS4]
–
Follow Alberto on Twitter (@Alberto Luperon)
Have a tip we should know? [email protected]