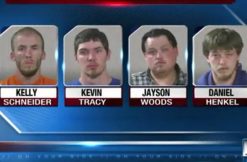 Idaho man Kelly Bryan Schneider, 23, was indicted by a federal grand jury on Jan. 10 for killing a gay man in an apparent hate crime. In a statement published Monday, U.S. Attorney Wendy J. Olson said that the victim was targeted because of his sexual orientation.
"The charge of willful assault based on sexual orientation, resulting in death, is punishable by up to life in prison, supervised release of not more than five years, and a $250,000 fine," said the Department of Justice.
Schneider is already facing state charges for first-degree murder, grand theft, robbery, and fraudulent possession of a transaction card. Daniel A. Henkel, Kevin R. Tracy, and Jayson C. Woods also face charges of first-degree murder and robbery.
This in connection to the murder of 49-year-old Steven Nelson on April 29, 2016 at the Gott's Point trial. State prosecutors say Schneider and the three other were part of a sex-for-pay ruse where victims were lured out via online ads on Backpage.com, then beaten for their cash. In this case, Woods allegedly set up the meeting with Nelson, and Schenider attacked the victim, kicking him with steel-toed boots while Henkel and Tracy encouraged the assault. A report from KIVI-TV at the time said that the victim was found naked, and died hours later from a heart attack.
[Screengrab via KIVI-TV]
Have a tip we should know? [email protected]