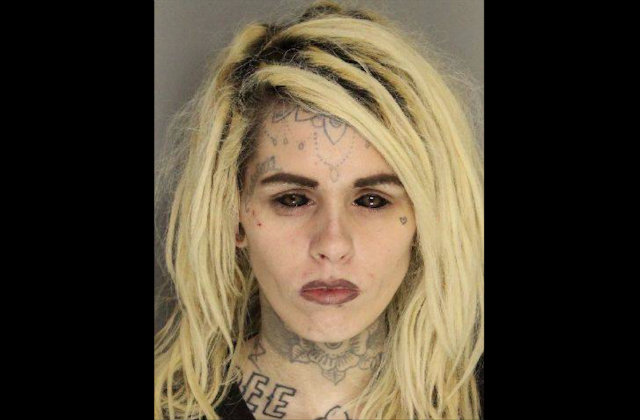 Morgan Joyce Varn's picture has gotten quite a bit of attention. The 24-year-old kidnapping suspect appears in a recent mugshot with what seem to be literally black sclera. That is the part of the eyes that are usually white, but hers seem to be straight-up pitch. Otherwise, she has got typical brown irises. The Lancaster County Sheriff's Office in South Carolina announced her arrest on Friday, and her image spread through numerous media reports.
Officials said on Facebook that they cuffed her and 23-year-old Jonathan Mikael Robinson on Monday. A 25-year-old male victim claimed Varn invited him over to a town home. Robinson was allegedly armed with a stolen handgun while Varn demanded the man's cell phone and money. She is accused of smashing the phone's screen, and threatening the individual with an ashtray. Three unidentified adults, two guys and one woman, were also reportedly there. This victim said he left the premises, and called 911 from a neighboring home since Varn broke his cell.
Deputies arrived at the scene, followed by other officers, investigators, a crisis negotiator, and a SWAT team, the sheriff's office said. Several attempts at discussion failed to convince the suspects to give up. Long story short, the two unidentified men came out relatively quickly, then Varn and the other woman were later "brought out and detained", and SWAT entered the home to take Robinson into custody.
Varn faces counts of armed robbery, kidnapping, and malicious injury to personal property. Robinson is charged with armed robbery, kidnapping, possession of a firearm during the commission of a violent crime, and possession of a stolen pistol.
Bond was denied for all but one accusation: Varn managed to sign a personal recognizance bond on the property damage charge.
"We had three people and a pistol inside that home and for hours did everything we could to get them to come out," Sheriff Barry Faile said. "When they didn't, we had to go in and get them. Fortunately, no weapons were discharged and nobody was hurt. That is the outcome we always want."
Robinson's mugshot appears below.
[Mugshots via Lancaster County Sheriff's Office]
Have a tip we should know? [email protected]