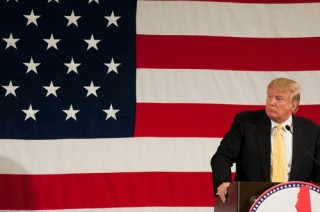 The drama around Donald Trump's presidential campaign never ends. This time, the latest development comes in the form of a letter that four ranking members of various the House of Representatives' Committees have sent to FBI director James Comey. The Congressmen are  asking that the Bureau "assess whether connections between Trump campaign officials and Russian interests may have contributed to" the hack into Democratic Party servers to steal thousands of emails and send them to WikiLeaks for publication.
The letter was signed by Elijah E. Cummings (Committee on Oversight and Government Reform), John Conyers, Jr. (Committee on the Judiciary), Elliot L. Engel (Committee on Foreign Affairs), and Bennie G. Thompson (Committee on Homeland Security). It cites numerous media reports, including this one from The Daily Beast on July 25th:
The FBI suspects that Russian government hackers breached the networks of the Democratic National Committee and stole emails that were posted to the anti-secrecy site WikiLeaks on Friday. It's an operation that several U.S. officials now suspect was a deliberate attempt to influence the presidential election in favor of Donald Trump, according to five individuals familiar with the investigation of the breach.
Of course, there are also plenty of references to Trump's praise of Russian Federation President Vladimir Putin, as well. Other red flags (pun not intended) cited by the letter include:
Trump foreign policy advisor Carter Page's apparent "high-level access to Russian officials that are currently under sanctions imposed by the United States government."
Former campaign chairman Paul Manafort's work for a pro-Russian political party in the Ukraine.
Trump strategist Rick Gates' work with Manafort on the Ukraine project.
The letter concludes with this statement:
We do not know if Donald Tramp's public statements or the connections of his campaign officials to Russian interests directly or indirectly led to the cyber attacks against Democratic party organizations, but there is widespread agreement that the United States should take all steps possible to prevent Russia from interfering in our electoral process and prosecute to the full extent of the law anyone involved in such a scheme.
LawNewz has reached out to the Trump campaign for comment on the letter. We will update this space if we hear back.
[Photo: Shutterstock]
Have a tip we should know? [email protected]