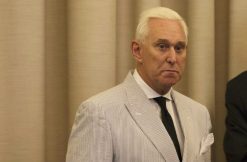 The Democratic Coalition Against Trump just announced that they've filed an FBI complaint against political strategist Roger Stone and the Trump campaign. They are not playing. The group, which is part of the Keep America Great PAC, allege Stone and the campaign were involved with WikiLeaks, and the "foreign government" behind it (read: Russia).
From the Saturday statement obtained by LawNewz.com: "Stone had fair warning before the most recent emails were released, and predicted back in August that Podesta would be at the center of the next string of hacks."
The group says that cyber-terrorism and treason has likely been committed, and that the FBI should look into it. This isn't the first time this group has filed a legal complaint against Republicans. In fact, they've done it several times this election season.
WikiLeaks has recently published several batches of emails purportedly from John Podesta, chairman of Hillary Clinton's presidential campaign. It's attracted quite a bit of bad press during an election that was already a raging tire fire. This has international implications, too. The U.S. government has said they believe the Russian government authorized the data dumps.
We've reached out to Stone about this specific complaint. Podesta has suggested Stone was in on the email released, but he's denied this. A NBC report from Wednesday reported Stone saying that the claim was "categorically false," even though admitted that he has a link to the organization.
"I have a back-channel communications with WikiLeaks," he said. "But they certainly don't clear or tell me in advance what they're going to do."
Stone used to serve an adviser on Trump's campaign, but left relatively early in August, 2015. He remains a vocal supporter.
[image via Lev Radin and Shutterstock]
–
Follow Alberto on Twitter (@Alberto Luperon)
Have a tip we should know? [email protected]