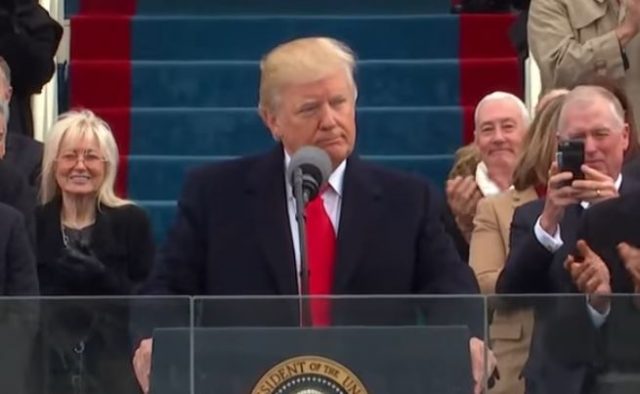 Ashley Moody wants to be Florida's Attorney General, and in doing so, she is allying with a former adversary. This ex-judge once sued President Donald Trump over a real estate deal, but now she is supporting his policies as she runs for office as a Republican.
"This matter had absolutely no bearing on my family's support of our President during the election, and I continue to support him and his agenda in Washington," she said in a statement to POLITICO published Monday.
Moody resigned as a Hillsborough County circuit judge in April in order to run for office.
The backstory on this awkward entanglement began with an aborted real estate project that began in 2004.
A corporation, SimDag/Robel, purchased an empty lot by the Hillsborough River in Tampa, Florida. They hit on the idea of building "Trump Tower" on their newly acquired property, so they reached out to the Trump Organization, according to a Tampa Bay Times report. This company soon reached a licensing agreement with the real estate mogul, and the building, a condominium, was announced in 2005. Buyers handed out deposits for units ranging from $700,000 to $6 million.
"The marketing pretty much reflected the Trump brand, it was exquisite," Patrick Sheppard, a SimDag/Robel partner, told the Times. "We had a video where people could see the tower [as if they were] flying down the river. We could show them exactly what the view was going to be from each unit. We had total mock-ups of what the bathrooms and kitchens were going to look like. The entire enterprise was sold out in less than a week."
There remains no Trump Tower on the Hillsborough River. The deal came at a bad time, as the housing bubble started to deflate in 2006. Things fell apart in 2007 after SimDag/Robel allegedly stopped paying Trump licensing fees, and the real estate mogul sued. There was a counter lawsuit, but this court battle didn't last very long. The parties settled in 2008, with SimDag/Robel later declaring bankruptcy.
But problems didn't end for the real estate mogul. Buyers got some of their money back. Not all of it.
Trump was sued in 2009 by some of the investors. This lawsuit included Moody's family, initially through Moody's father, federal Judge James Moody, who serves the Middle District of Florida. The 54-plaintiff complaint alleged Trump misrepresented buyers into believing he did more than lend his name to the project.
In court filings obtained by POLITICO, his attorneys argued buyers should have paid more attention to the sales agreements. This would have made clear that SimDad/Robel was in charge of the project. A judge ruled against Trump on this matter, however, since the mogul did a lot in hyping the endeavor.
A 2011 settlement included a confidentiality agreement, so Ashley Moody couldn't say much about it, she told the outlet.
Nonetheless, it doesn't help her that the current Attorney General, who is limited by term limits, encouraged her to run. That is Pam Bondi. In 2013 she sought a $25,000 campaign contribution from Trump right before she didn't follow up on fraud claims against Trump University. A formal complain about this went nowhere, however, after an ethics commission discovered no probable cause of wrongdoing.
Moody told the outlet Bondi wasn't mad about the lawsuit at all, but declined to say if they'd discussed the case. She said they should speak to political consultant Marc Reichelderfer, who also works for Bondi's political committee, And Justice for All, and other GOP politicians statewide.
LawNewz.com has reached out to him for comment.
The next Florida AG will be chosen in the 2018 general election, and a Republican nominee has yet to emerge. State Rep. Jay Fant (R-District 15) also seeks the office.
[Screengrab via ABC]
Have a tip we should know? [email protected]