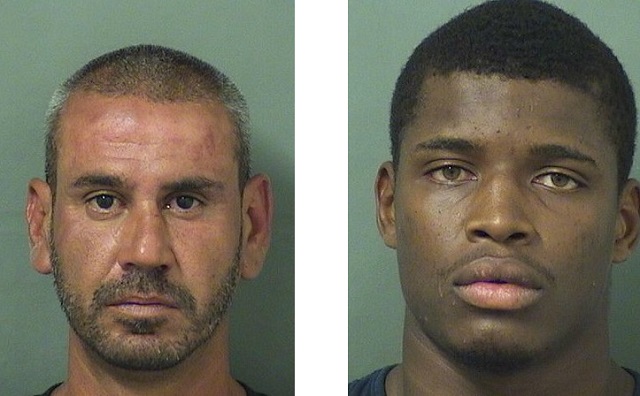 A puppy thief got a whole lot more than he bargained for when he fled the scene of the crime on foot, only for the owner to chase after him … in a truck. Police in Riviera Beach, Florida first noticed Demian SanMartin (pictured on the left) in a Ford F-150 on July 3. He was following Damon Perry (right), who was running away.
SanMartin told police that Perry and two other men had just beaten him up and stolen his dog, according to the Palm Beach Post. He claimed he was sitting at a picnic table with his 12-week-old blue nosed pit bull, when Perry and the others came over to him, punched him in the face, and made off with the pup, worth approximately $1,200, according to the police report. SanMartin said he got into the truck, which was a company vehicle, and chased him down, continuing after Perry even after hitting a tree.
Police have yet to find the dog.
SanMartin was charged with aggravated assault with a motor vehicle, and Perry was hit with robbery, battery and grand theft charges. Perry is still in jail, but SanMartin got out on July 4 after posting $6,000 bond.
Have a tip we should know? [email protected]