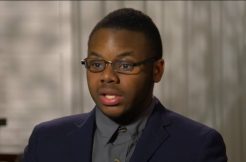 The teen known as "Doctor Love" is juggling a few accusations right now.
On Wednesday, a Florida judge is delaying the upcoming trial of 19-year-old Malachi Love-Robinson, The Orlando Sentinel reports. Her reason? Because of court hearings happening out in Virginia.
Love-Robinson faces charges in two states. First up: Florida. He was facing a November 7 trial after allegedly practicing medicine without a license. He even started his own clinic, though he has insisted it was just alternative medicine, and he had the proper licenses. Prosecutors have even accused him of outright stealing from patients. He has been charged with 12 felony counts, including grand theft, and 2 misdemeanors.
But the Florida judge had to reschedule the trial because Love-Robinson was already set for a November 18 preliminary hearing in Stafford County, Virginia. There, he faces three counts after a September 9 arrest. The main accusation: using an elderly woman's credit to try to buy a $35,000 Jaguar car.
He faces up to 90 years in prison for the Florida charges, and 25 for the Virginia accusations. Right now, there's a status hearing set for December 14 in Florida, but the date of an actual trial won't be established until Virginia authorities decide whether they'll put him on trial and when.
Love-Robinson remains at the Rappahannock Regional Jail in Virginia, and continues to deny all charges. It's unclear what kind of strategy his defense will put up. A former attorney, who fired him in August, had suggested to the Florida judge that they were considering an insanity defense. We've confirmed that George Marzloff is now representing him for the Virginia charges, and have left a message with his office. We'll update when we learn more.
–
Follow Alberto Luperon on Twitter (@Alberto Luperon)
Have a tip we should know? [email protected]