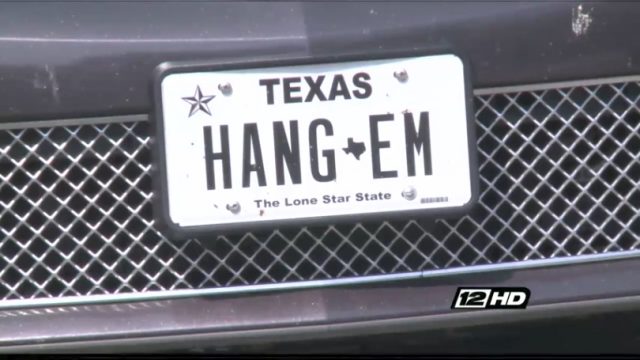 A district attorney in Texas was forced to change his vanity plates after the state's Department of Motor Vehicles (DMV) deemed them "potentially objectionable to one or more members of the public."
Fannin County District Attorney Richard Glaser has had those plates–which read "HANG EM"–for 35 years. He claims to have been inspired by the Clint Eastwood and Ted Post revisionist Western film "Hang 'Em High," a classic of the sub-genre. Glaser said:
It really sorta fits what I do. It harkens back to frontier justice… If I'm out on the road, people will drive by, give me a thumbs up, or clap or something like that. I guess the people in Austin have a little different sense of humor.
The DA's bad luck stems from the DMV's denial of vanity plates to another driver on similar grounds. That driver appealed his own plate cancellation and wrote, "How can the district attorney for Fannin County have 'HANG EM' and that not be threatening? Just wondering?" The DMV claimed this qualified as a complaint.
Glaser was suspicious, so he filed a Freedom of Information Act (FOIA) request to ferret out the other driver's plate review and alleged "complaint."
It turns out the driver who brought Glaser's plates to the DMV censor's attention wasn't actually complaining about them, and that the words were taken out of context–which was pointed out to the DMV in another letter sent by the driver–but once Glaser's own review began, that was more or less the end of the story for his Eastwood-inspired plates.
Glaser said he then changed the text of his plates to "GELD EM," a nod to castration, but those were found to be objectionable as well. That denial was a bit more of a shocker to the twice-spurned district attorney. He said, "I guess that there's people down in Austin that probably make a pretty good salary that decide stuff like this."
He's currently applying for plates that simply read, "DA 336," after the 336th District Court in Bonham, Texas, roughly 80 miles north-northwest of the Dallas-Fort Worth Metroplex. And, he hopes this is the end of his vanity plate saga. Speaking to local news station KXII 12, the DA said, "It's just a waste of time, I decided. If they're going to be that upset about it, I'll just go ahead and get something more plain-vanilla."
[image via screengrab/KXII 12]
Follow Colin Kalmbacher on Twitter: @colinkalmbacher
Have a tip we should know? [email protected]