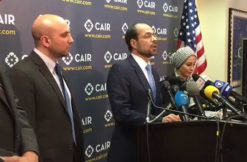 On Monday, the Council on American Islamic Relations is making good on their promise to sue the Trump Administration over its Executive Order stopping immigration from seven Muslim-majority countries. They announced at a Monday press conference that they just filed a complaint in a federal court in Virgina, suing under the First-Amendment's Establishment Clause.
The organization says the order targets Muslims, and that refugees will be sent back to their homelands, where they face violence and possible death. They said the EO is contrary to American values, and that it is "rooted in bigotry and hate."
Co-counsel Gadeir Abbas said Donald Trump's words "are the grandest monument to anti-Muslim sentiment that America has ever known."
The president signed the Executive Order on Friday. It bans citizens of Syria, Iraq, Iran, Yemen, Somalia, Sudan, and Libya from coming to the U.S. for 90 days, and suspends a refugee program for 120-days (indefinitely in the case of Syria). It has actually affected people previously approved by the U.S. government to come in, causing detentions in airports nationwide. None of the plaintiffs named in the lawsuit have been detained, CAIR said.
Federal judges in Brooklyn, Virginia, Washington state, California, and Massachusetts have issued partial stays against the order. CAIR representatives believe this shows their lawsuit will do well.
Trump denied the EO was a "Muslim Ban" in a Saturday talk with reporters, and reiterated that in a Sunday post on Facebook.
He has called for a Muslim ban.
"Donald J. Trump is calling for a total and complete shutdown of Muslims entering the United States until our country's representatives can figure out what is going on," his campaign said in a December 7, 2015 statement. They quoted the then-candidate:
Without looking at the various polling data, it is obvious to anybody the hatred is beyond comprehension. Where this hatred comes from and why we will have to determine. Until we are able to determine and understand this problem and the dangerous threat it poses, our country cannot be the victims of horrendous attacks by people that believe only in Jihad, and have no sense of reason or respect for human life. If I win the election for President, we are going to Make America Great Again.
We've reached out to a Trump spokesperson to reconcile the discrepancy between the president's weekend comments, and the campaign statement.
Update – Jan. 30, 1:53 p.m.: Added Trump's campaign statements on a Muslim ban, and we've reached out to a spokesperson for comment.
Have a tip we should know? [email protected]