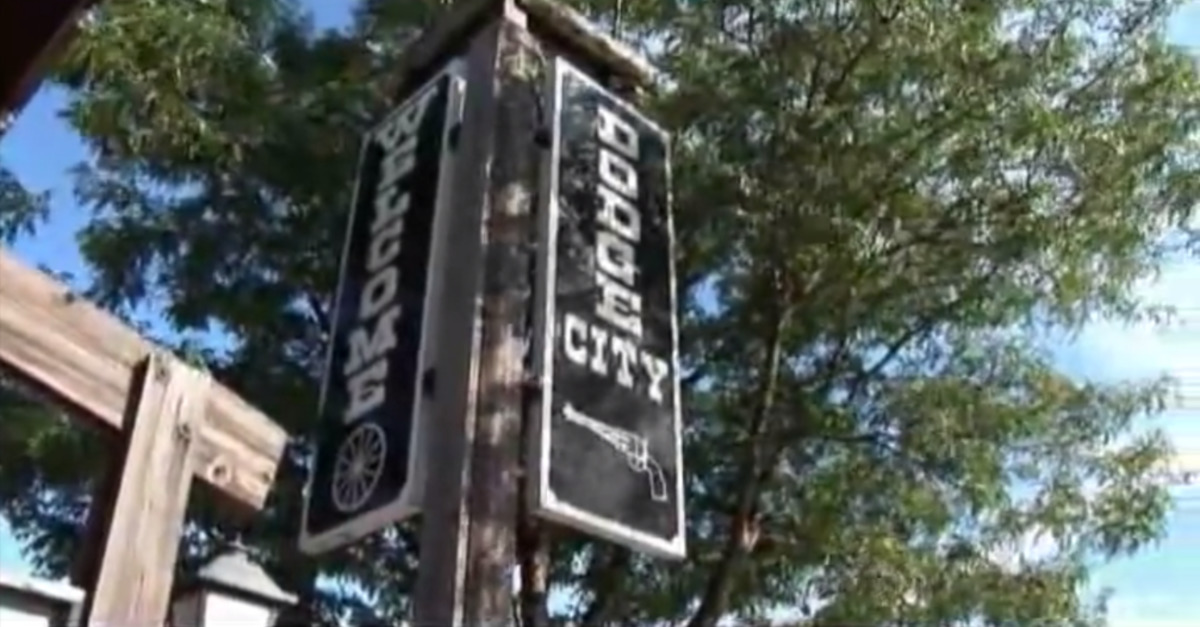 DODGE CITY, KANSAS — Gunfighters and outlaws like Wyatt Earp, Frank and Jesse James, Bat Masterson and Doc Holliday brought fame and violence, and occasionally law and order, to the iconic Wild West cow town of Dodge City, Kansas—a place-name that still lends itself to the popular American idiom about leaving and in a hurry.
The Kansas Republican Party is the Sunflower State affiliate of the national Republican organization and their acolytes have recently taken that idiom's advice to heart by removing the only polling location from the city's civic center and placing it well outside of town–a mile away from the nearest bus stop.
According to The Wichita Eagle, Dodge City is now at least 60 percent Hispanic–and since Hispanic voters overwhelmingly choose Democrats over Republicans, the paper notes, the removal of the city's lone polling station "could be a factor in Kansas' tight governor's race featuring a champion of immigration restrictions, Republican [Secretary of State] Kris Kobach [and] Democratic state Senator Laura Kelly."
Local Democrats and voting rights advocates say that's no "could be" or coincidence at all.
Johnny Dunlap is the chairman of the Ford County Democratic Party. Dodge City is the Ford County seat. In comments to the Eagle, Dunlap blasted the change–which occurred just weeks ago–for its likely impact on turnout during this year's highly contested midterm elections. He said:
It is shocking that we only have one polling place, but that is only kind of scratching the surface of the problem. On top of that, not only is it irrational and ridiculous that we have only one polling place, but Dodge City is one of the few minority-majority cities in the state.
Dodge City has struggled with Hispanic voter turnout in the past. A database consulted by the Eagle showed that Hispanic voters only registered 17 percent turnout during the last midterm elections in 2014 compared to 61 percent turnout for white voters during that same year.
And apathy alone might not account for those low participation rates. The Eagle also notes that Dodge City's former polling location wasn't exactly centralized. Rather, that singular polling site was located "just blocks away from the local country club —  in the wealthy, white part of town."
Dodge City has a population of roughly 27,000 residents–buoyed by a semi-recent influx of Hispanic and Latin immigrants chasing economic opportunity provided by the time-honored tradition of American cattle. But instead of the Great Western Cattle Trail, this time around, it's the wholesale industrial processes of  slaughterhouses and beef packing plants.
The city's voter rolls contain in excess of 13,000 eligible individuals. The average Kansas polling site serves around 1,200 voters during any given election. The ACLU of Kansas notes that this disparity makes Dodge City's sole location, "one of the most burdened polling places in all of Kansas."
ACLU of Kansas Executive Director Micah Kubic did not mince words about what this meant in real terms.
"Thousands of Hispanic voters on the south side of town now have a harder time voting," Kubic said.
Dunlap also made his concerns plain.
"That is terrible," he said. "What that has contributed to is a way below average Hispanic turnout in voting in Dodge City."
Republican Party officials insist their hands are tied.
Kansas Elections Director Bryan Caskey, who was appointed by and works directly under Kobach, authority, said the county had to move the polling location due to construction in the area.
Dunlap, however, noted that construction on the "huge" building had barely begun–and that most of said construction was an addition that had little impact on the space previously used to house voting machines.
In comments to Law&Crime, he said:
This isn't a new problem. I met with [Ford County Clerk Debbie Cox] previously and implored her to increase the polling locations. She flatly refused. This is purposeful. She said it wasn't in her budget–but she makes her own budget. She gave me a list of excuses but none of them hold water.
Law&Crime reached out to Cox's office for comment but no response was forthcoming at the time of publication.
[image via screengrab/Kansas Tourism]
Follow Colin Kalmbacher on Twitter: @colinkalmbacher
Have a tip we should know? [email protected]