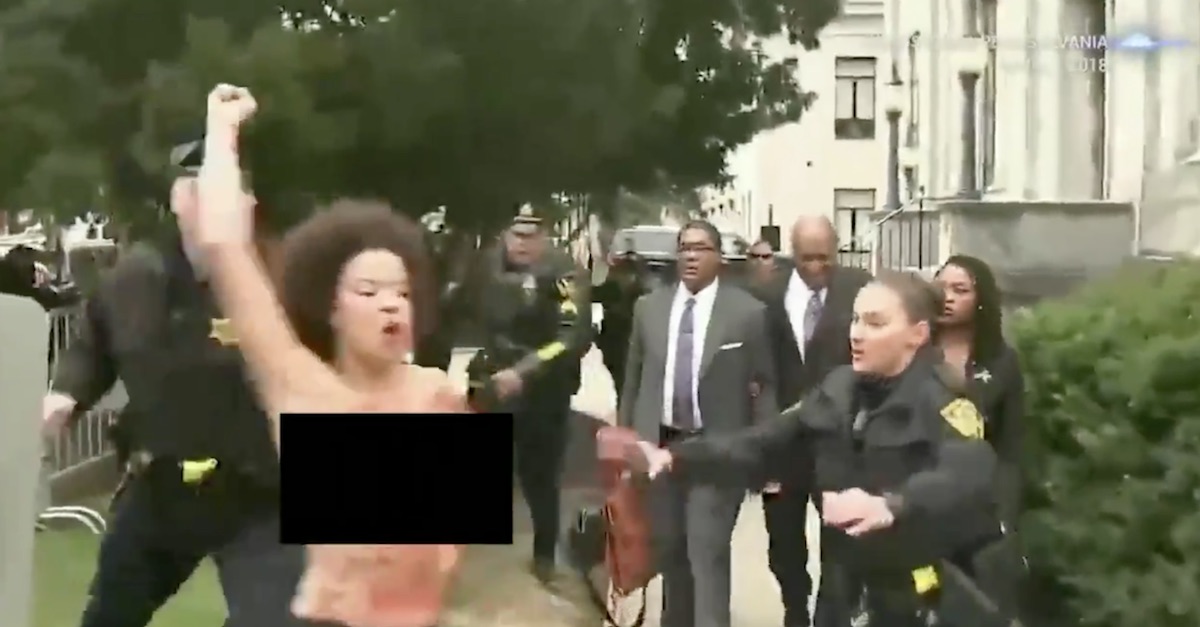 It's been revealed that the woman who waited for Bill Cosby to pass by a courtroom on Monday and charged at him topless, only to be restrained by authorities in a bush, made several appearances on The Cosby Show in the '90s.
Cosby is in court for his retrial on sexual assault charges.
The woman, identified as 39-year-old Nicolle Rochelle, faces a charge of disorderly conduct in Montgomery County, Pennsylvania for intending to "cause a public inconvenience, annoyance or alarm or recklessly creating a risk thereof."
For that she will have to pay a fine and court costs.
Some have already noted that Rochelle, who has an IMDB page, made appearances on The Cosby Show as a child actor.
At the time, she was known as Nicole Leach.
In case you missed it, Rochelle was recorded watching and waiting as Bill Cosby left the courtroom. She then jumped a barricade and was swarmed by police.
https://twitter.com/FranceNews24/status/983348945270333441
Rochelle had "FEMEN," "Women's Lives Matter" and the names of victims written on her body. FEMEN, an international feminist group known for topless protesting, shared the Rochelle story on social media.
Rochelle has otherwise appeared on shows like NYPD Blue, Law & Order: Special Victims Unit, Shining Time Station and Chappelle's Show.
[Image via screegrab NBC Bay Area]
Have a tip we should know? [email protected]