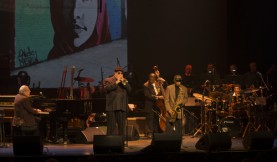 Donald Fagen, the co-founder of the American jazz rock band Steely Dan, was seen leaving Manhattan Criminal Court on Monday in connection with a domestic violence dispute earlier this month. The Grammy-winning singer accepted a conditional deal offered by the prosecution that may adjourn, or postpone, misdemeanor assault and harassment charges after one year, in contemplation of dismissal. The condition means there is no guarantee that the charges will be dropped.
Fagen was arrested shortly after the new year following a physical altercation with Libby Titus, his 69 year-old singer wife. According to the criminal complaint, Fagen pushed his wife of 22 years "onto a marble window frame [at their E. 92nd St. apartment] by placing his hands on her arms and rapidly extending his arms in the direction of said frame."
In addition to the filed charges, a restraining order was issued against the musician in favor of Titus. The order bars Fagen from taking part in problematic conduct of a similar nature.
Fagen and Titus have each had success in the music industry, Fagen more so as Steely Dan was inducted into the Rock and Roll Hall of Fame in 2001.
[h/t DailyNews]
Have a tip we should know? [email protected]