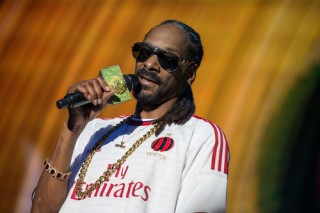 Rapper Snoop Dogg (real name Calvin Broadus), is looking to trademark Leafs By Snoop, a new line of marijuana-related products, TSN reported. His trademark application with the U.S. Trademark and Patent Office, filed in November, is now facing a challenge from an unlikely source.
Maple Leaf Sports & Entertainment, the parent company of the NHL's Toronto Maple Leafs, is claiming that the Leafs By Snoop logo, which features a gold, seven-pointed leaf, with the words "Leaf By Snoop" in white block letters on it, is too similar to their team's logo, a blue maple leaf bearing white text that says "Toronto Maple Leafs."
Snoop launched Leafs By Snoop in Denver, Colorado in November, according to The Cannabist. Products include lighters, marijuana flowers, and assorted cannabis products, including edibles. "Leafs By Snoop is truly the first mainstream cannabis brand in the world and proud to be a pioneer," Snoop told The Cannabist after the launch. "LBS is blazing a trail for the industry."
But that trail may lead to a courtroom. On June 8, the Maple Leafs asked the USTPO for an extension of time to file an opposition. It remains to be seen how it will play out.
Intellectual property professor Christopher Sprigman told TSN that the Leafs may argue that Snoop's logo would cause confusion in the marketplace, damaging the team's brand, but he didn't think that argument would be very convincing. "I don't see a lot of overlap between Colorado pot smokers and Maple Leafs fans."
Have a tip we should know? [email protected]