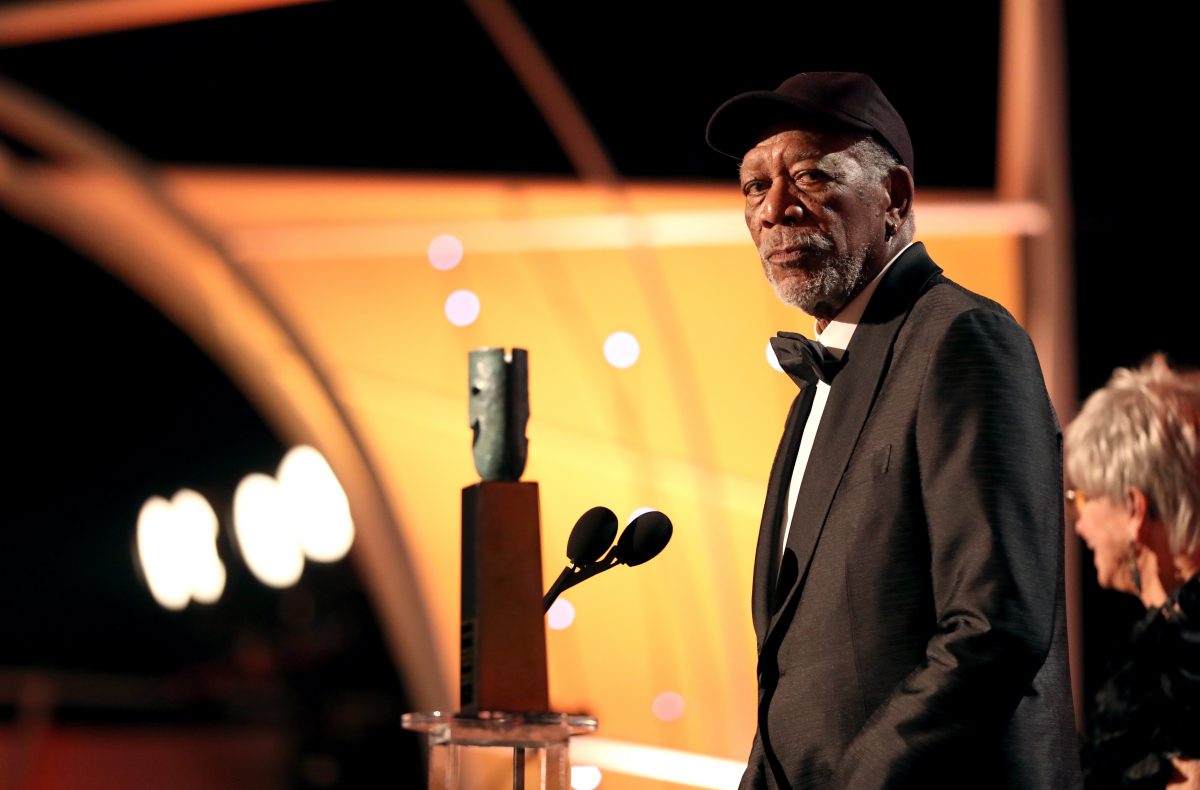 The Morgan Freeman episode of #MeToo is heating up, big time. According to CNN and others, eight women have accused Freeman of sexual misconduct; now, Freeman is threatening to sue CNN for defamation — and his case looks pretty strong.
First, some background.  On May 24, CNN published an article authored by reporters Chloe Melas and An Phung, detailing the findings of an investigation conducted into the 80 year-old actor's behavior. According to the article, 16 people described a pattern of inappropriate behavior, eight reporting having been victims of sexual harassment. Eight said they witnessed Freeman's alleged conduct.  Shortly after the story broke, Freeman responded to the accusations in statement saying:
"Anyone who knows me or has worked with me knows I am not someone who would intentionally offend or knowingly make anyone feel uneasy," the statement reads. "I apologize to anyone who felt uncomfortable or disrespected — that was never my intent."
On specific example of the harassment — and the core of Freeman's defamation threat–  was detailed by Melas, who said that when she'd interviewed Freeman at a press junket for the movie "Going in Style," when she was six months pregnant. According to Melas, Freeman held on to her hand after a handshake while, "repeatedly looking her up and down," as Freeman's co-stars Alan Arkin and Michael Caine looked on. Freeman reportedly said to Melas, "I wish I was there," and, "you are ripe."
Here's the problem: there are concerns that Melas' account is not that credible. During interview in question, cameras had been rolling. Freeman was recorded saying, "boy, do I wish I was there," but there was no photo evidence for any of that "ripe" talk. Further, a letter sent to CNN Tuesday by Freeman's attorney offers alleged context for the "wish I was there" statement that isn't remotely inappropriate:
"It is correct that, during the interview, Mr. Freeman said, 'I wish I was there.' …Mr. Freeman was in fact responding to a story that Michael Caine had just told.

In that story, Mr. Caine had congratulated a woman on becoming pregnant, only to learn to Mr. Caine's (and the woman's) embarrassment that she was not pregnant. When Mr. Freeman said 'I wish I was there,' any reasonable viewer would have known that the 'there' to which he was referring was the conversation in which Mr. Freeman's friend, Mr. Caine, had embarrassed himself. That is exactly what Mr. Freeman intended."
Then letter even quotes viewers, who seemed to understand exactly what had been going on during the interview — just to underscore the point that CNN's reporting was kind of lame:
"As one person who saw Ms. Melas' Going In Style interview reacted:

I just can't believe that not a single person at @CNN or @News Day watched that @Chloe_Melas video and didn't think to tell her that Morgan Freeman was talking about Michael Caine and not her. Way to play the victim, @Chloe_Melas."
Tuesday, Freeman's attorney, Robert M. Schwartz, of Irell & Manella LLP, sent a letter to CNN, demanding a retraction of its May 24 story, and threatening a defamation lawsuit for what was called "malicious intent, falsehoods, slight-of-hand, an absence of editorial control, and journalistic malpractice."
In 10 page letter, a law firm representing Morgan Freeman is threatening legal action against CNN, calling for a retraction and an apology, citing @TyraMartin saying she was mischaracterized and Melas's description of her own experience with Freeman: (1/x) pic.twitter.com/F514eICE5O

— Sopan Deb (@SopanDeb) May 29, 2018
Because Morgan Freeman is clearly a public figure, a successful defamation claim against a media outlet would require more than a simple error. He'd have to prove that CNN acted with "actual malice" — printing something it either knew was false, or for which it printed with reckless disregard for its truth.  Additionally, he'd have to prove that he suffered quantifiable economic damages as a result of CNN's misdeeds.  In Robert Schwartz's letter, he draws a blueprint for just such a case.
The letter raises the question of Melas' taking an innocuous comment and spinning it as harassment because of "runaway self-centeredness," – or worse – an attempt to jump on the #MeToo train, "so that she could grab attention and advance her career" – a perspective which is garnering some solid support in the twittersphere.
For those saying what does any lady gain from tarnishing a man's image, well Chloe Melas who is spear-heading the sexual accusations against Morgan Freeman has serious ulterior motive for slandering Morgan Freeman name. pic.twitter.com/naXzrkm5PQ

— Eph_em (@pharmow) May 25, 2018
I believe #Metoo movement is a worthy cause but however, with women like @Chloe_Melas who thinks flirting is `sexual harassment', twisting the truth about #MorganFreeman and uses her own hatred against Mr Morgan Freeman for fame, that's why it's slowly turning to a joke.

— Jade (@Jadewinter_01) May 28, 2018
Schwartz then included this burn, which not-so-coincidentally references the "actual malice" requirement for defaming public figures:
"It is not the responsibility of the victim of CNN's sloppy and malicious journalism to do the fact-checking that CNN should have done before it ran this scandal-mongering hit piece on Mr. Freeman."
There's background detail too. According to Schwartz's letter, Chloe Melas complained to the Warner Bros. Human Resources Department at the time the incident occurred. The department investigated her accusations, and found that they reportedly lacked merit. In other words, if CNN had done its investigatory homework, it would've realized that Melas' complaint was shaky at best.
Schwartz takes the opportunity to call out CNN :"That is not something the editors of The New York Times, The Wall Street Journal, or The Washington Post would have allowed to happen. But again, CNN did."
In addition to Chloe Melas, the May 24 CNN article also named producers Tyra Martin and Lori McCreary as having also been harassed by Freeman. According to Schwartz, though, both Martin and McCreary had been pretty clear that CNN completely mischaracterized what they'd said.
From a WGN interview of Ms. Martin:
"I'm sorry for anyone who's had an unfortunate experience or feels harassed or assaulted. That wasn't my experience with Morgan Freeman. The interviews were always fun for me. Some misreporting got out that I was uncomfortable or that he had made sexual remarks to me every time. That's just not the case. I never said that."
Schwartz's letter goes on to detail some pretty questionable journalistic practices, in which Melas hounded sources, trying to bait them into accusing Freeman of sexual misconduct.
And finally, there was this whopper — which, while not a critical part of a prima facie defamation claim, doesn't exactly play well in the court of public opinion:
"One also has to ask whether Ms. Melas would have had the same unjustified overreaction if the remark had come from Michael Caine or Alan Arkin."
In many defamation cases, demonstrating concrete financial harm is nearly impossible — an obstacle that thwarts many a victim of false scandal from litigating.  Not so for Morgan Freeman, at least according to his lawyer, who wrote:
"Because of CNN's exploitation of the issue and the eternal memory of the Internet, Mr. Freeman is being viewed in the global court of public opinion as someone akin to notorious harassers and accused rapists, such as Harvey Weinstein and Kevin Spacey. CNN had no justification for doing that.

Predictably, those who work with Mr. Freeman have felt the need to distance themselves and to consider suspending further engagement. Ms. Melas herself gloated about this on CNN. No doubt, you have seen similar reports concerning some of Mr. Freeman's other employers. The damage CNN has inflicted is real. And given Mr. Freeman's career and many motion picture and television commitments, it is substantial."
These days, every news cycle seems to bring new tales of harassment as well as corresponding threats of defamation.  Most of the time, defamation claims amount to little more than bluster.  This one, though, feels different, right from the start. Regardless what Morgan Freeman's behavior may have been over the years, there appears to be significant evidence that the May 24 CNN story was less than air-tight.
For now, CNN has a choice—it can edit, retract, or clarify its May 24 article to reflect some of the concerns Freeman has raised through counsel. Alternatively, it can call Schwartz' bluff, and see if he will really pursue defamation litigation on his client's behalf against the media giant. Oh, right – and there's also that third possibility – that the two parties will settle the matter quietly, with lots of money and little publicity.
Law & Crime reached out to CNN for comment, and CNN's spokesperson provided the following statement:
"The unfounded accusations made by Mr. Freeman's lawyer are disappointing and are difficult to reconcile with Mr. Freeman's own public statements in the aftermath of the story.  CNN stands by its reporting and will respond forcefully to any attempt by Mr. Freeman or his representatives to intimidate us from covering this important public issue."
We're not done yet, either.  After CNN issued its statement, Robert Schwartz sent one right back, doubling down on his claim that CNN exercised gross misconduct:
A new statement from Morgan Freeman's attorney Robert Schwartz upon word that CNN is standing by its story… pic.twitter.com/B4q90yIHKU

— Eriq Gardner (@eriqgardner) May 29, 2018
Editor's Note: This piece has been updated to include Robert Schwartz's updated statement.
This is an opinion piece. The views expressed in this article are those of just the author.
Elura Nanos - Columnist & Trial Analyst, Law & Crime; CEO Lawyer Up