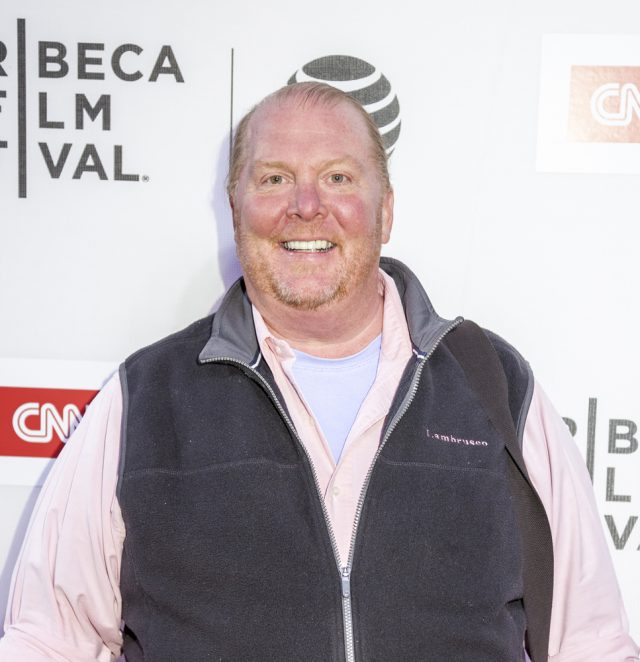 I don't think there are many people surprised by the sexual misconduct allegations against Mario Batali.   He definitely fits the #MeToo mold: he's an incredibly successful restauranteur and celebrity chef, he's got major financial power, and he employs tons of people both in and out of the kitchen. Plus, his unabashed arrogance is as much a part of his brand as are his greasy pony-tail and orange crocs. I get how a man like Batali could be allowed to allegedly misbehave in the workplace for decades. As was the case on a larger scale with Harvey Weinstein, many people were probably quick to overlook some grabby hands if it meant rising to fame and fortune on the tails of Batali's XXXL chef's coat.
Here's what I do not understand, though. Don't these rich and powerful men ever consult with good lawyers before making public statements?
Here's what Batali told the Washington Post:
"I apologize to the people I have mistreated and hurt. Although the identities of most of the individuals mentioned in these stories have not been revealed to me, much of the behavior described does, in fact, match up with ways I have acted. That behavior was wrong and there are no excuses. I take full responsibility and am deeply sorry for any pain, humiliation or discomfort I have caused to my peers, employees, customers, friends and family."
While I'm gratified that Batali clearly took responsibility for his actions and apologized, as a lawyer, I'm mildly horrified on his behalf.   To me, this statement reads, "I sexually harass people all the time. So much, in fact, that it's hard to keep track." Not really a great sound bite for someone who's about to call his insurance carrier to check on his coverage limits.
Sexual misconduct can be divided into two major categories: sexual assault and sexual harassment. Sexual assault has a criminal side and a civil side, and generally requires some kind of touching or attempted touching. Of course, there's a spectrum of severity, with rape being on one end of that spectrum and a sexual gesture or quick touch being on the other; those levels of severity would impact sentencing in a criminal case and damages in a civil one. Given that the allegations against Batali include physical contact, there is the possibility (although quite remote) that he could be criminally prosecuted for sexual assault in addition to the likely civil claims his victims could bring. For either kind of case, Batali's public apology was likely vague enough to avoid doing any real damage. But on the issue of sexual harassment, Molto Mario may have shot himself in his croc-clad foot.
Unlike cases involving assault, civil lawsuits for sexual harassment do not focus on a single incident, but rather on a pattern of behavior. In New York State, for example the website for the Attorney General explains the basics for sexual harassment and corresponding Title VII claims for gender discrimination:
Sexual harassment is a form of gender-based discrimination.

It involves unwelcome conduct that:

Is used as the basis for hiring or other employment decisions, such as promotions, raises, or job assignments; or

Creates an intimidating, hostile, or offensive work environment.

The harasser can be a supervisor, a co-worker, or someone who is not an employee, such as a client or customer. Harassment is illegal when it is so frequent or severe that it creates a hostile or offensive work environment or when it results in an adverse employment decision.
Like other claims that have similarly amorphous definitions, lawsuits for sexual harassment can be tough to win. One dirty joke or one lewd glance doesn't usually amount to a winning sexual harassment claim; but constant dirty jokes or incessant leering may well hand the plaintiff a courtroom victory. It's also not enough that the plaintiff his or herself was offended, but rather, that a reasonable person in that plaintiff's position would have found the defendant's behavior to create an offensive work environment. None of that is easy to prove — unless, of course, you have a defendant who admits to creating an inappropriate environment.
When Batali recognized that, "much of the behavior described does, in fact, match up with ways I have acted," without even knowing which women he was accused of groping or making suggestive comments toward, he made their harassment claims a whole lot stronger. Upon hearing the textbook definition of sexual harassment, responding, "I don't remember specifically, but that sure sounds like me," is perhaps the most damaging thing a soon-to-be Title VII defendant could say.
Batali already stepped away from his restaurants and his company, has (at least temporarily) left ABC's The Chew, and has been dropped from Food Network's plans to reboot his original show, Molto Mario. Whether his damaging public apology will make their way into deposition transcripts still remains to be seen. At this point, I'm guessing a quick settlement is probably the way to go.
[image via Sam Aronov / Shutterstock.com]
This is an opinion piece. The views expressed in this article are those of just the author.
Elura Nanos - Columnist & Trial Analyst, Law & Crime; CEO Lawyer Up