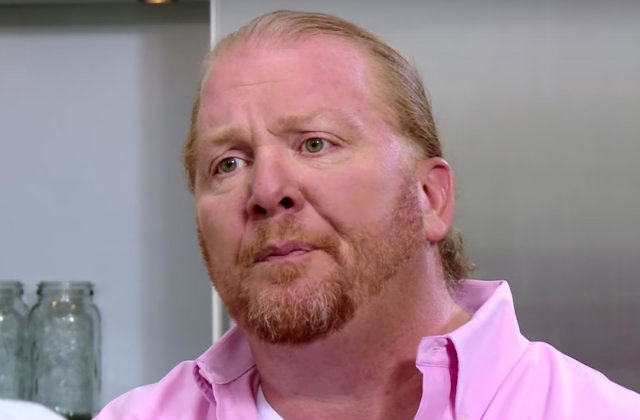 Yikes. Things just got exponentially worse for Mario Batali.   His role in the restaurant edition of #MeToo just went from "predictable" to "target of criminal prosecution" after a bombshell 60 Minutes interview showed several women sharing gruesome details of an alleged sexual assault at the hands of "The Red Menace."
Last December, word spread of Batali's having been accused of decades of workplace misbehavior. The accusations were vague and were mostly pretty typical – some groping, some lewd comments, and a creation of a sexually-aggressive atmosphere. As gross as Batali's alleged behavior sounded, from a legal perspective, the whole thing was relatively ho-hum. A civil lawsuit for sexual harassment would be filed, and Batali's lawyers would fight it out with the plaintiffs' counsel over how much to pay up. Batali's public apology, in which he specifically admitted, "much of the behavior described does, in fact, match up with ways I have acted," would have added a few more zeroes to the settlement check; given the usual non-disclosure terms of celebrity settlements, though, the public wouldn't have been in a position to share in whatever was going down between the lawyers.
Now, though, we're in a whole different world. The accusations surfacing now paint the picture of Batali drugging and raping women in "the Rape Room" of the Spotted Pig restaurant. While there is no criminal counterpart to sexual harassment, there sure as hell is one for sexual assault. While harassment and assault are often conflated in media coverage and #MeToo red carpet statements, they are two very different things legally.
Mario Batali is now the target of an NYPD criminal investigation into sexual assault (that's the one that covers everything from unauthorized touching to violent rape). The crimes under NY Penal Law Article 130 range from simple misdemeanor to serious felony, and opens up a defendant to a range of sentences up to 25 years per conviction. So we're officially in Cosby territory now. Only the case against Batali already appears to be quite a bit stronger.
Last winter, when the Batali accusations seemed to live squarely in the land of civil lawsuits, he told the Washington Post:
"I apologize to the people I have mistreated and hurt. Although the identities of most of the individuals mentioned in these stories have not been revealed to me, much of the behavior described does, in fact, match up with ways I have acted. That behavior was wrong and there are no excuses. I take full responsibility and am deeply sorry for any pain, humiliation or discomfort I have caused to my peers, employees, customers, friends and family."
As I wrote at the time, the statement came dangerously close to admitting liability – a position which was certainly in vogue with the apologetic trend of the would-be #MeToo-reformed, but which had potential to blow up any defense Batali might be planning on raising in a civil lawsuit.
Viewed through a prosecutor's lens, though, Batali's apology is one of several factors that eases the state's burden of proof. Absent physical evidence, sexual assault cases can be frustratingly difficult to prosecute; cases stand or crumble on the credibility of victims and accused. Batali, who has already made a public admission of at least some wrongdoing, would be starting his defense at a serious disadvantage (though its important to note this statement came after the less serious charges were leveled.)
Furthermore, in sexual assault cases, two things are prosecutorial gold: documented contemporaneous accounts of the assault, and eyewitness statements. The case against Batali may have both.
One woman told Anderson Cooper that after dazedly waking up in the Spotted Pig's "Rape Room," with semen on her skirt and suspecting having been drugged, she called a crisis hotline, got examined at a hospital and spoke to an NYPD detective. Whatever records were generated by such an incident (to say nothing of the value of that skirt, if it still exists) would be be invaluable for any prosecutor.
While we're hypothesizing about trials, let's not forget the role restauranteur Ken Friedman stands to play. Friedman is the owner of the Spotted Pig, and a friend of Batali's.   He's also been accused of sexually abusing several women, and appears to be getting his defenses in order. Friedman issued a statement in response to 60 Minutes' story in which he "vehemently denie[d] any non-consensual activity," and immediately went on the attack, noting that one woman who complained, "never issued a complaint," "expressed ongoing affection for him," and, "sought to return to his restaurants."
What relevance such a statement has to any case against Batali remains to be seen, but it sure sounds like Friedman plans to come out swinging. One wonders if some strategic testimony given against Batali might just be the perfect get-out-of-prosecution-free card for Friedman.
Batali already stepped away from his restaurants and his company, was fired from ABC's The Chew, and missed out on Food Network's plans to reboot his signature show, Molto Mario. For a culinary titan like Batali, that's already quite a fall from grace. Something tells me, though, that there's quite a bit more trouble about to come his way.
Editor's Note: This story was updated from a previous version which had incorrectly listed the name of The Spotted Pig restaurant.
This is an opinion piece. The views expressed in this article are those of just the author.
Elura Nanos - Columnist & Trial Analyst, Law & Crime; CEO Lawyer Up