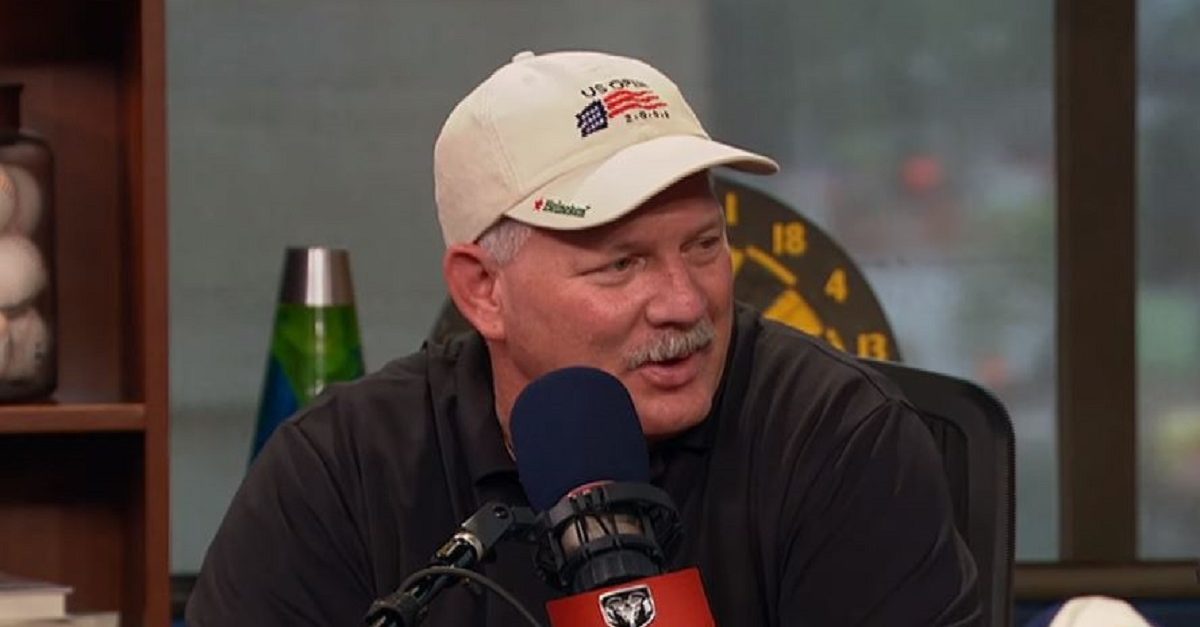 Lenny Dykstra and Ron Darling were teammates on the New York Mets when they won the World Series in 1986. Since then, their lives have taken very different paths, and now they find themselves on opposite ends of a defamation lawsuit.
The case stems from Darling's new book, 108 Stitches: Loose Threads, Ripping Yarns, and the Darndest Characters from My Time in the Game. The complaint cites a lengthy passage where Darling tells a story about the beginning of Game 3 of the 1986 World Series, where the Mets faced the Boston Red Sox. As Darling tells it, Dykstra was the first batter of the game, and while he was warming up in the on-deck circle, he shouted insults at Red Sox pitcher Dennis "Oil Can" Boyd, including racial epithets.
The complaint, filed Tuesday in New York County Supreme Court, quotes Darling as calling Dykstra's alleged words "the ugliest piece of vitriol I ever heard," and "foul, racist, hateful hurtful stuff. … worse, I'm betting, than anything Jackie Robinson might have heard, his first couple times around the league." Darling did not quote any specific remarks, saying he did not "want to commemorate this dark, low moment in Mets history that way."
Darling goes on to write about how Dykstra's alleged comments worked, as he went on to hit a home run in his first at-bat. He says that when Dykstra returned to the dugout, the rest of the team cheered him on, with Darling being among them.
Dykstra quickly denied saying anything racist. None of the players involved have stepped forward to confirm Darling's story, although several have been split over whether they believe it.
Wally Backman, who played second base for the 1986 Mets, took Dykstra's side.
"I was on deck with Lenny and I'll leave it at this: I know he didn't say that," Backman told WGBB radio. "He did not say that. That's a fact."
Black teammates of Dykstra such as Darryl Strawberry, Dwight Gooden, and Kevin Mitchell, said they didn't hear Dykstra say anything racist. Keith Hernandez, who was on the 1986 team and is now part of the Mets' announcing team along with Darling, said he remembers Dykstra yelling at Boyd, but not what was said.
"I do recall Lenny up there in the on-deck circle barking, but I was getting prepared and I didn't hear a thing," Hernandez told the New York Post.
Dykstra's complaint says that Boyd "publicly denied hearing or knowing of such rant," and said that he knew Dykstra from when they played together in Japan and he didn't seem to be "that type of a person." Indeed, Boyd did say this during an interview with WFAN radio, but in that same interview Boyd said he believes Darling. About Dykstra, he said, "I guess what you see on the surface is not really what a person might seem to be."
Several days before the lawsuit was filed, but after Dykstra indicated that it was forthcoming, Darling posted a statement on Twitter.
"Even though my recently released book 108 Stitches has sparked some controversy, I stand by all recollections that were written, but I do regret that my former teammates have been approached for comment," Darling said. "Due to a legal threat, I have been advised not to make any further comments at this time."
— Ron Darling Jr (@RonDarlingJr) April 4, 2019
Prior to that statement, however, Darling appeared on ESPN radio and discussed the alleged incident, as he described it.
"I heard what I heard, and I put it in the book for a reason," he said, adding that there was "no chance that I misremembered it."
Darling said he included the story to illustrate his feelings of regret in going along with the alleged behavior.
"That's not how it's coming out, and I'm going to have to deal with it accordingly," he said.
Law&Crime reached out to MacMillan Publishers and St. Martin's Press, the book's publishers who were also named as defendants, for comment. They have not responded, but this space will updated should they provide a statement.
After their playing days, Darling went on to become a color commentator for Mets games on the SNY network. Dykstra has had a number of legal problems. Just last week, he pleaded guilty in a New Jersey court, admitting to running an illegal rooming house. In March, he pleaded guilty to a disorderly persons offense in a case where he was initially charged with felonies for allegedly threatening an Uber driver and possessing drugs.
[Image via Dan Patrick Show YouTube screengrab]
Have a tip we should know? [email protected]