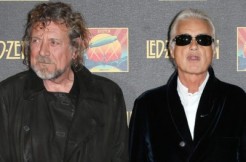 On Thursday, a jury in federal court ruled that no, Led Zeppelin didn't steal the distinctive melody from their 1971 song, "Stairway to Heaven," The Associated Press reports.
The trust of late musician Randy Craig Wolfe claimed he wrote it for "Taurus," a 1968 song he made with his band Spirit. A lawsuit demanded damages and a songwriting credit. But Zeppelin guitarist Jimmy Page and lead singer Robert Plant have always maintained the melody is their original creation, and testified as much in court.
LawNewz.com columnist Elura Nanos looked at this case back on May 20, and didn't have good things to say for the defense.
Awesome as Led Zeppelin is, I don't believe any jury in the world is going to believe that the connection between "Stairway" and "Taurus" is just a coincidence. First of all, between 1968 and 1970, Spirit and Zeppelin apparently performed at the same venue on the same day at least three times, and at the same festival at least once. Oh, and Robert Plant reportedly just happened to have a copy of "Taurus" on his shelf of LPs. And then there's the issue of the songs sounding exactly the same.
In court, experts for both sides agreed that though the songs sounded familiar, it's partly because they rely on a descending chord progression that's pretty common. Nonetheless, the plaintiff experts said the similarity between "Stairway to Heaven" and "Taurus" was just a bit too close.
The jury didn't agree. Led Zeppelin won the trial. Check out the embeds below for the songs. What do you think about the allegation?
The disputed melody happens pretty much from the get-go in "Stairway to Heaven."
Jump to 0:44 for Spirit's version of the melody.
–
Follow Alberto Luperon on Twitter (@Alberto Luperon)
Have a tip we should know? [email protected]