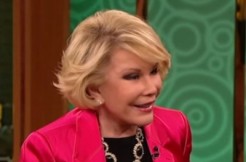 The family of late comedian Joan Rivers have reached a settlement in the malpractice lawsuit linked to her death.
"This was a lightning fast settlement that suggests the doctors had a lot to answer for," MSNBC Chief legal correspondent Ari Melber told Today in a Friday report. There hadn't even been a deposition yet, unusual for a lawsuit.
"The parties agreed to settle this case to avoid protracted litigation," a spokesperson for the defendants, Yorkville Endoscopy, told Today. "We remain committed to providing quality, compassionate healthcare services that meet the needs of our patients, their families and the community."
Rivers died in 2014 after complications from a throat surgery, suffering cardiac arrest, and sustaining brain damage from lack of oxygen, according to medical examiners. She died a week after the surgery.
"In my opinion, it was 100 percent preventable," daughter Melissa Rivers told NBC's Matt Lauer in 2015. The lawsuit, filed in New York state, claimed hospital employees botched things. One doctor allegedly took pictures of Joan Rivers while she was anesthetized on the operating table, and employees waited too long (12 minutes) to call 911 after the emergency started.
Terms of the settlement remain confidential.
It's pretty hard to summarize Rivers' career. There's so much to it. She made it big as a guest on The Tonight Show in 1965. This lead to appearances on number television shows, and she eventually hosted her own. More recently, she had a memorable stint with the TV Guide Channel, won a season of Celebrity Apprentice (which her daughter also participated in), and hosted a podcast, In Bed with Joan, from her bed.
[screengrab via The Wendy Williams Show]
–
Follow Alberto Luperon on Twitter (@Alberto Luperon)
Have a tip we should know? [email protected]