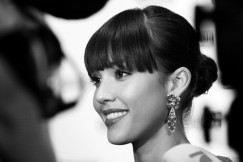 Honest Co., Jessica Alba's eco-friendly e-commerce startup, has been accused of fraudulently labeling several products. A lawsuit, filed on Friday by Brad and Manon Buonasera in U.S. District Court in Manhattan, seeks to discover whether the company is exploiting the "natural market," and whether any of the natural products sold by the actress's company are, in fact, natural.
Honest Co.'s home and personal products—laundry detergent, children's toothpaste, soap and bubble bath—are among the 41 items targeted by the complaint, which also alleges the natural, plant-based or chemical-free label is misleading.
The products included labels such as "natural," "all natural," "naturally derived," "plant-based" and "no harsh chemicals (ever!)." However, the complaint alleges, "Honest's products are a chemical soup." It also claims the products contain "a spectacular array of synthetic and toxic ingredients."
Honest released a statement addressing the suit, "The Honest Company takes its responsibility to our consumers seriously and strongly stands behind our products. These allegations are without merit and we will vigorously defend this baseless lawsuit."
The Buonasera's are seeking damages that could top $5 million and are hoping to bring a class-action lawsuit for New Yorkers who bought Honest's products.
[h/t TIME]
Have a tip we should know? [email protected]