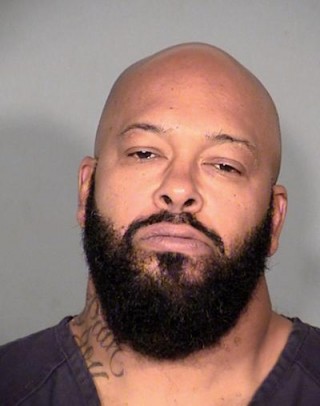 Fallen music mogul Marion "Suge" Knight, 50, has a new defense team, yet, again. The outgoing defense attorney, Thomas Mesereau, is one of California's top criminal defense attorneys who successfully represented Michael Jackson against child molestation charges at a 2005 trial. Knight's new attorney, his fifth, is former prosecutor Stephen L. Schwartz.
Knight is charged with murder for a fatal hit and run incident a year ago in Los Angeles. It's alleged that on January 29, 2015, he deliberately struck two men with his truck after arguing with them near a promo shooting location for Straight Outta Compton. Terry Carter, 55, was killed and Cle "Bone" Sloan, 51, was seriously injured. Knight claims he struck them in self-defense.
The former CEO of Death Row Records is no novice to the criminal justice system. Knight has been arrested a number of times in the past three decades for crimes that include auto theft, assault, and violating probation. He served a prison sentence in the late 1990s. Knight's one-time thriving Death Row Records filed for bankruptcy in 2006. Suspicions have also surrounded Knight in the murders of Tupac Shakur in 1996 and Biggie Smalls in 1997.
Knight has complained of poor health since his arrest on January 30, 2015, and inadequate treatment in jail. He is being held on $10 million bail. Knight is facing up to life in prison if convicted of murder.
The website TMZ is reporting that Knight and Mesereau had a falling out over the release of confidential information. Attempts to reach Mesereau by LawNewz.com were unsuccessful.
Have a tip we should know? [email protected]