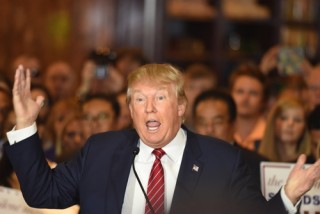 Donald Trump says he will probably sue over the results of the Iowa Caucuses. He lost, by the way. And the Donald is never shy about taking legal action against anyone. Trump is taking issue with Cruz over some shady mailers, and allegedly spreading rumors that Ben Carson was dropping out. Here is just part of his Twitter  "Trumpertantrum" as it's being called:
The State of Iowa should disqualify Ted Cruz from the most recent election on the basis that he cheated- a total fraud!

— Donald J. Trump (@realDonaldTrump) February 3, 2016
As for the lawsuit threat, it happened this morning while he was on a radio show. Trump was pressed several times by the host from Boston Herald Radio about whether he would file a lawsuit.  He said the following:
"I probably will, what (Cruz) did is unthinkable"
Here is the full interview, which was first picked up by BuzzFeed:
Whether Trump's case would have any legal merit is very debatable. For a thorough breakdown on whether Cruz violated any laws, check out LawNewz.com's earlier post on this very subject.
During the interview, the radio hosts at Boston Herald Radio seemed to be eating up every word Trump said, even congratulating for a recent endorsement.
"The guy is really fraudulent," Trump said. Cruz is of course firing back, saying that Trump needs some "Twitter therapy."
Have a tip we should know? [email protected]
Rachel Stockman - President / On Air Host