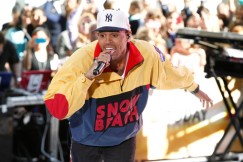 Great news for Chris Brown. The 26-year-old R&B singer will not face criminal charges following flimsy battery allegations made by Liziane Gutierrez, a Brazilian model.
Las Vegas Police failed to charge Brown finding insufficient evidence to support Gutierrez's claims that the "Loyal" singer punched her in the face at a party shortly after New Years. Brown has repeatedly found himself to be the subject of such claims, including an assault accusation by record producer Jeremih.
Though Brown has often found himself on the wrong side of the benefit of the doubt, it appears Gutierrez has a history of high-profile celebrity drama herself. The model had a run-in with singer Jason Derulo after being denied entry to his after party in Hollywood last August.
Brown's public relations team went on the offensive from the outset, denying Gutierrez's claims and denouncing them as "unequivocally untrue." Gutierrez was denied access to Brown's party, according to his people.
Brown pleaded guilty to a felony, five years' formal probation and domestic violence counseling following a February 2009 incident that left singer Rihanna hospitalized with facial injuries.
Brown's manger, Mike G, voiced his frustration with the media's one-sided depiction of Brown via Twitter:
2 days after this story BS broke over 750 articles were written. Today 7 stories have been… https://t.co/vRNsv6xuOs

— Mike G™‎ (@Nitevision_Mgmt) January 25, 2016
Have a tip we should know? [email protected]