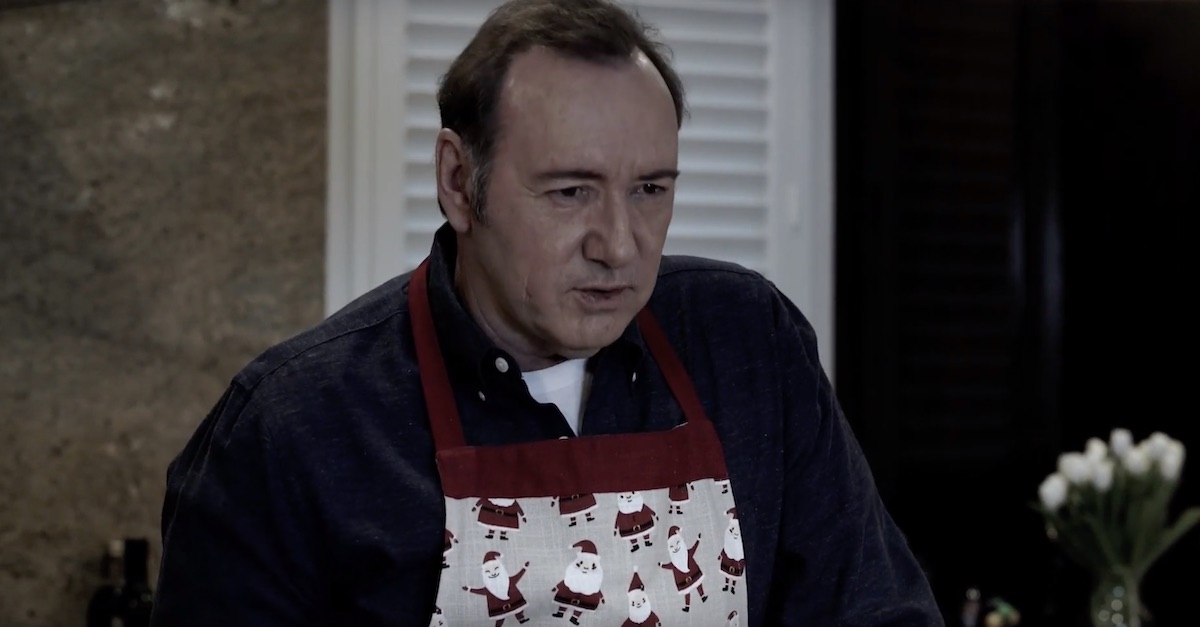 Ex-House of Cards star Kevin Spacey, fresh off of the controversial YouTube release of a Christmas Eve video in which he appeared to vaguely address sexual assault allegations against him and his accuser, filed a motion on Monday to avoid facing the accusations against him in a Nantucket, Massachusetts courtroom. Why? Because Spacey doesn't want to generate more "negative publicity."
That's not all we learned on Monday, however. Spacey also plans on entering a not guilty plea. Spacey, in case you missed it, was charged with indecent assault and battery related to an incident dating back to July 2016.
Not long after that news broke on Christmas Eve, Spacey reacted by posting a video on his Twitter account titled, "Let Me Be Frank." Spacey performed as House of Cards character Frank Underwood and, given the timing, appeared to address the accusations against him, giving the title of the video a clear double-entendre.
The video has been watched nearly 9 million times in a week.
Spacey, the Boston Globe reported, is supposed to be arraigned on January 7 in the Nantucket District Court for allegedly grabbing the genitals of the 18-year-old son of a former Boston news anchor at a club in July 2016.
The alleged victim's mother, Heather Unruh, reported the allegations against Spacey to police after, she said, Spacey caused "tremendous anger and anxiety" by groping her son. Unruh reported this alleged felony after others had already accused Spacey of sexual misconduct and assault (prosecutors said in September that they wouldn't bring charges because of the statute of limitations). Spacey is also under investigation in the UK for three other sex assault allegations.
Mitchell Garabedian, the Boston-area attorney of Spotlight fame, is representing the alleged victim in the current case. He said that the young man has "shown a tremendous amount of courage in coming forward. Let the facts be presented, the relevant law applied and a just and fair verdict rendered."
Not only does Spacey plan on pleading not guilty, his legal team has already suggested that it has no plans of challenging that a groping occurred. Instead, they will likely argue that the encounter at the club was consensual and initiated by the alleged victim, who was 18 at the time.
As Law&Crime reported before, the defense said the young man lied about his age saying he was 23, that he approached Spacey, exchanged phone numbers with Spacey, that they smoked a cigarette together, and that the young man also drank between eight and ten alcoholic beverages in just over an hour.
Prosecutors say, on the other hand, that the alleged victim reportedly told investigators that Spacey was the one who bought the drinks, and that the reason he didn't move away from the groping was because the bar was crowded and he couldn't move. The accuser also said tried to shift his body away from Spacey and move the actor's hands away from him. According to investigator's report, the alleged victim told investigators that "Spacey kept reaching down his pants" and that a witness saw the alleged victim looking "pale, blank, a bit frightened."
Ronn Blitzer contributed to this report.
[Image via YouTube screengrab]
Have a tip we should know? [email protected]