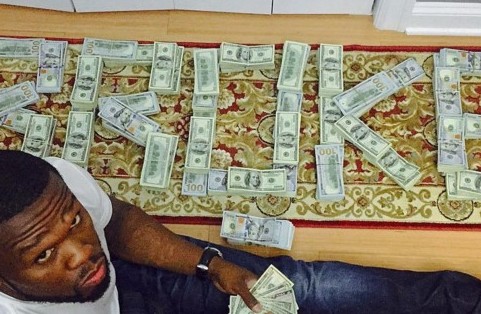 Curtis Jackson III, better known by his monetary moniker, 50 Cent, landed himself in hot legal water after flashing stupid amounts of cash on his social media accounts just months after filing for Chapter 11 Bankruptcy protection. Now, the rapper claims the cash was fake—like, monopoly money fake.
After creditors—including Sleek Audio, SunTrust Bank, and an ex-girlfriend, Lastonia Leviston, who claim they're owed a combined $29 million—saw his posts, they filed a complaint and so the "In Da Club" singer is due back in da court.
In a statement filed in court on Tuesday, 50 cent claimed that he wasn't hiding assets and the cash was merely a prop for his ostentatious little photo shoot. Judge Ann Nevins ordered two quarters to appear in bankruptcy court to explain the Instagram photos. He's due back in a Connecticut court on Wednesday.
Jackson filed for bankruptcy last year after a New York City jury ordered him to pay $7 million to a woman who said he posted her sex tape online.
[h/t Courant]
Have a tip we should know? [email protected]