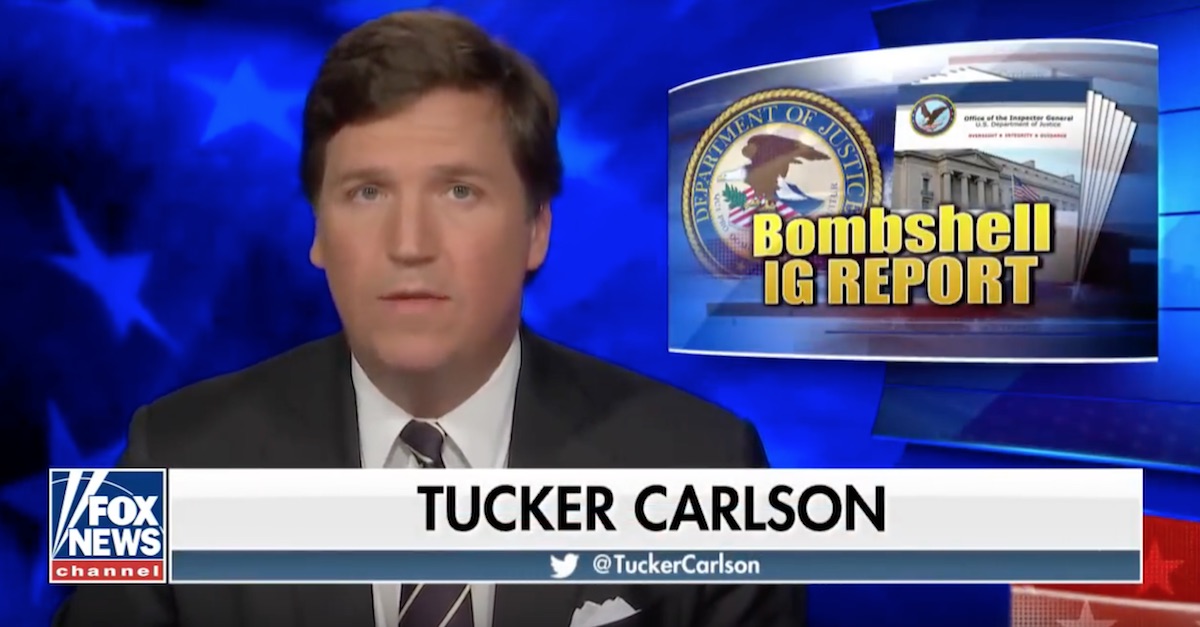 Fox News' Tucker Carlson sarcastically reacted to the ordered jailing of Paul Manafort ahead of his trial Friday by saying, oh c'mon, Manafort is 69 and it's laughable America is safer with him put away. He also said that the major downside of all of this is actually that it means most of Washington, D.C. will soon enjoy Manafort's fate because they are guilty of the same unregistered foreign lobbying crime.
"Thank god 69-year-old Paul Manafort is finally behind bars. Unchain the door, let the kids play outside. We're safe," he tweeted. "Downside: now that unregistered lobbying for foreign governments is an enforceable felony, most of Washington is going to have to report to jail."
Keep in mind, Manafort has not been sentenced for crimes — despite what you might read on President Donald Trump's Twitter account. Manafort has been jailed because Judge Amy Berman Jackson determined that he violated the conditions of his pre-trial release through attempted witness tampering. Manafort was thereby ordered to go to jail, go directly to jail and not pass Go.
Evidence of communication practices was introduced Friday by one of Special Counsel Robert Mueller's attorneys. Notably, the judge specifically pushed back against Manafort's attorney Richard Westling when he questioned prosecutor Greg Andres' evidence, BuzzFeed News reported.
Andres said Manafort used encrypted messaging apps like WhatsApp and did something known as "foldering." "Foldering" is when multiple people access a draft of an email to no one in particular to hide the identity of the person/people it is for.
He also said Manafort made a phone call on February 24 to one a witness in which Manafort asked for a "heads up" about the "Hapsburg group," which Mueller has called "a group of former senior European politicians to take positions favorable to Ukraine, including by lobbying in the United States." The witness said he hung up on Manafort and said he couldn't talk.
Westling responded to Andres that a lot of people (more than a billion) use WhatsApp. He also said that there was no evidence Manafort tried to tamper. The judge responded that Westling was "somewhat understating what we have."
"I cannot turn a blind eye to these allegations … You have abused the trust placed in you six months ago," said to Manafort. The jailing came on the heels of the Mueller's superseding indictment of Manafort, which added obstruction and conspiracy charges in response to alleged attempted witness tampering. He had already faces financial fraud and the foreign lobbying charge (violation of the Foreign Agents Registration Act or FARA) referenced by Carlson.
[Image via YouTube/Fox News screengrab]
Have a tip we should know? [email protected]