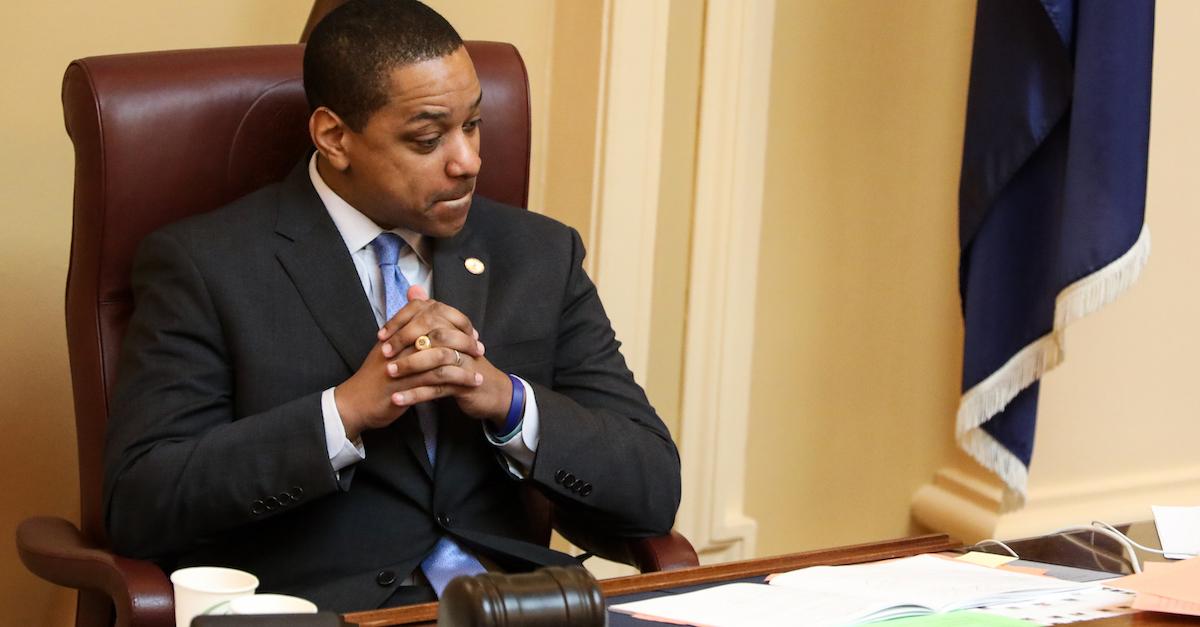 Virginia's Democratic Lt. Governor Justin Fairfax has retained the services of lawyers who guided Brett Kavanaugh through a Supreme Court confirmation hearing process that included accusations of sexual misconduct and attempted sexual assault.
It's quite a turn of events when you consider that Dr. Vanessa Tyson, the woman accusing Fairfax of sexually assaulting her in 2004, has hired the law firm that represented Kavanaugh accuser Dr. Christine Blasey Ford.
Wilkinson Walsh + Eskovitz partner Rakesh Kilaru confirmed the news, noting that firm has represented Fairfax for a period time predating the allegations against Kavanaugh.
"I can confirm that I and my firm have been representing the Lieutenant Governor since January 2018," Kilaru said.
On Wednesday, Tyson released a lengthy statement that she said would be the "only statement" she and her legal team will be making. Through the Washington, D.C.-area firm Katz, Marshall and Banks, Tyson explained why she decided to come forward and described the alleged assault.
"On the night of Friday, February 1, 2019, I read multiple news accounts indicating that Virginia Lt. Governor Justin Fairfax would likely be elevated to Governor as an immediate result of a scandal involving Governor Ralph Northam," she said. "This news flooded me with painful memories, bringing back feelings of grief, shame, and anger that stemmed from an incident with Mr. Fairfax that occurred in July 2004 during the Democratic National Convention in Boston."
Tyson said that what were initially "cordial, but not flirtatious" encounters turned into her going up to Fairfax's hotel room. She said she "had no reason to feel threatened" at that time, given the nature of their interactions. Tyson said that quickly changed.
"I stood in the entry way of the room and after he located the documents, he walked over and kissed me," she said. "Although surprised by his advance, it was not unwelcome and I kissed him back. He then took my hand and pulled me towards the bed. I was fully clothed in a pants suit and had no intention of taking my clothes off or engaging in sexual activity."
"What began as consensual kissing quickly turned into a sexual assault," she said, accusing Fairfax of forcibly pushing her head "towards his crotch" and forcing his penis into her mouth. Tyson claimed that she "cried and gagged" as Fairfax forced her to perform oral sex.
Tyson said that she was reluctant to answer press inquiries because she knew she would "immediately face accusations about my motives and be branded a liar, as is routinely the case when women come forward with allegations of sexual misconduct against prominent men." But then Fairfax asserted that the Washington Post found Tyson's allegations to have "significant red flags an inconsistencies." The Washington Post disputed that and Tyson was enraged by Fairfax's response.
"Mr. Fairfax's suggestion that The Washington Post found me not to be credible was deceitful, offensive, and profoundly upsetting. He has continued a smear campaign by pointing reporters to a 2007 educational video in which I talked about being the victim of incest and molestation," she said. "In that video I did not talk about being assaulted by Mr. Fairfax. This, of course, is not proof that he did not assault me. His reliance on this video to say the opposite is despicable and an offense to sexual assault survivors everywhere."
Tyson said that she has no political motive to take down Fairfax with a false accusation, as she is a "proud Democrat."
Fairfax has denied the allegations, but admitted he did have sexual contact with Tyson. He said it was consensual.
The allegation occurs as Democratic Virginia Gov. Ralph Northam faces a chorus of calls for his resignation due to the revelation of a blackface-KKK yearbook photo. If Northam were to resign, Fairfax would be next in line. That now appears to be in doubt.
Attorney General Mark Herring, another Virginia Democrat, also expressed his regret on Wednesday that back in 1980, when he was 19, he wore blackface at party. He admitted that he "did not have an appreciation for the experiences and perspective of others" in a statement.
[Image via Logan Cyrus/AFP/Getty Images]
Have a tip we should know? [email protected]